REVIEW: 'To All the Boys: P.S I Still Love You'
With Valentine's Day coming up, what better movie to review  than "To All the Boys: P.S I Still Love You". With almost two years between the release date of the first movie, "To All the Boys I've Loved Before," the wait has been highly anticipated by viewers. With Lana Condor playing Lara Jean Covey and Noah Centineo playing Peter Kavinsky, the couple remains picture-perfect.
The movie starts right where the first movie left off with Lara Jean and Peter exploring the reality of dating each other, not just as a cover-up this time. It picks up right around Valentine's Day (ironic, I know), and everything is gushy and lovey. But the insecurity of a high-school relationship comes to skew things pretty quickly, along with another love interest from Lara Jean's past.
Personally, I prefer this movie over the first because it has more realistic situations in it for the teenage viewers to connect to, including situations pertaining to insecurity, anxiety and high school girl drama. Lara Jean has never been in a relationship before and has no idea what to do, but what she does know is what her ex-best friend, Gen, did with her boyfriend prior to them dating.
This movie throws in the character John Ambrose, who we never saw coming. Lara Jean had written a total of five letters, which all had gotten replies, except for John Ambrose. Viewers were so caught up in the fact that Peter and Lara Jean were so happy together that they  forgot who John Ambrose even was- sneaky Netflix.
The movie also has a bunch of "easter eggs" that the first movie lacked. For example, the posters in the hallway would change to reflect how Lara Jean was feeling. Another was how John Ambrose pointed out that Peter would always take the last slice, and when Lara Jean noticed it she made a face of resentment. We got a different look into the relationship we all thought was perfect.
Not only did we get to see an inside look into Peter and Lara Jean's relationship, but the movie also focused on Gen and Lara Jean's relationship, which I really liked. Throughout the whole movie, Gen and Lara Jean built an unbearable tension that was almost uncomfortable to watch. But towards the end, after Lara and Peter break up, Gen and Lara meet in the treehouse and explain why Peter was with Gen, then have a touching moment reflecting on their prior friendship reliving some of the tension.
In addition to exploring other ideas rather than just the main characters' relationship, Netflix decided to go deeper into the friendship Gen and Lara Jean created and destroyed. Originally the two were extremely close and spent most of middle school together until Peter and Gen started dating. This put a wedge into their friendship because Gen was spending time with her boyfriend, as any high school couple would. But as soon as Gen and Peter break up, Peter uses Lara Jean as a pawn to make Gen jealous, which is the whole plot of the first movie. 
So understandably Gen and Lara Jean have mounds of tension, which becomes almost resolved at the end of the sequel. After opening the time capsule the friend group buried in middle school, Lara Jean pulled out a friendship bracelet with the matching one missing, but Gen reveals she had it all along. This lets the viewers know that Gen still cares.
All in all, "To All the Boys: P.S I Still Love You" was a great take on the modern rom-com. I would definitely recommend it to anyone who loved the first movie or just needs an innocent teen romance movie to watch.
About the Writer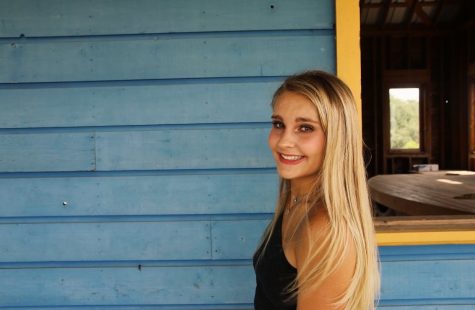 Riley Stinson, Social Media
Riley Stinson is a senior at Vandegrift, and this is her second year on staff. She began journalism sophomore year and decided to take her journalism career further by exploring the newspaper field. Riley loves to play tennis, walk her dog and find interesting restaurants in her free time.