Student council raises money for Austin Pets Alive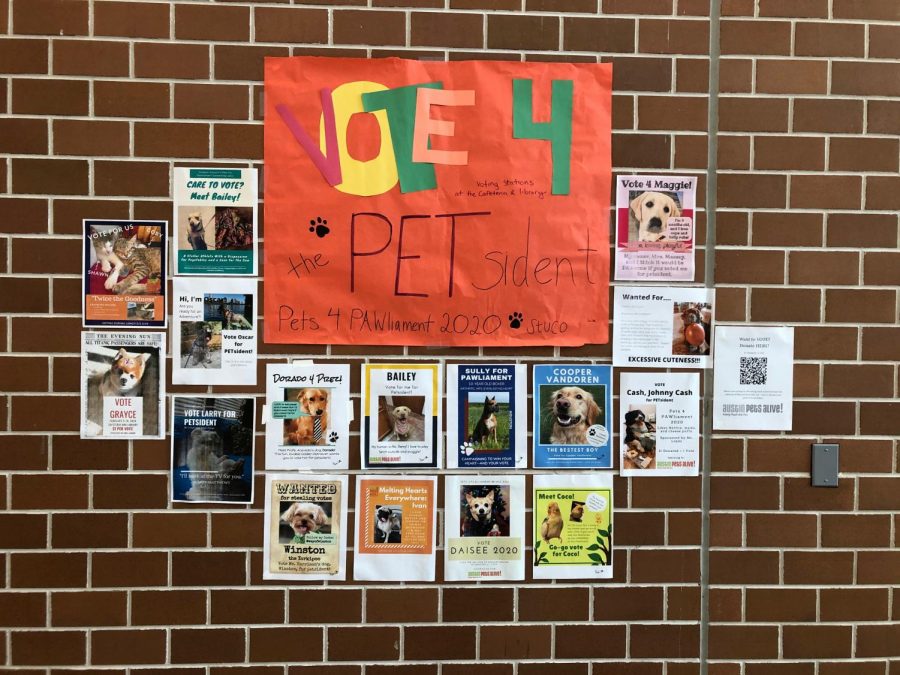 The election is underway for the newest school president and vice-president, or more correctly PETsident and Vice-PETsident, as part of  Student Council's Pets for PAWliament fundraiser for Austin Pets Alive.
Teachers who wanted their pet to run submitted a form about their pet as well as a $10 submission fee. The winners will be announced Feb. 18 and the winning pets and pet owners will receive a goodie basket. Students and staff can continue to vote and drop off donations through Valentine's Day. Voting is also available online at bit.ly/VoteOnlineP4P. The Student Council Pets 4 PAWliament committee is working to make campaigns for all the candidates. 
"The most enjoyable part is creating the campaigns for the animals and getting to see all the teachers' pets," committee member and sophomore Zarifa Anwar said. "The pets are all so adorable and being able to make a mock political campaign for an animal is so much fun."
There are 17 candidates, including a pair of two sibling cats, a hamster, one bird, and 14 dogs. Students can then vote on their favorite candidate through. Feb. 14. Voting takes place before school next to the library and during lunch in Main Street. Each dollar donated in a candidate's name counts as a vote for that pet. 
"When I heard that there was a charitable event at Vandegrift that allowed me to help my teachers and Austin Pets Alive, I knew I wanted to help out," sophomore Avery wong said. "I voted for my Algebra teacher's dog Bailey because she is the cutest dog out there."
The candidate that raises the most money by getting the most votes will be named PETsident. Vice-PETsident will be decided by the pet that has the most physical donations collected in their name, like dog food, paper towels, dog treats and collars. They can be dropped off in the candidates' pet parent's classroom.  
"As soon as I knew that there was a fundraiser being held to support Austin Pets Alive I knew I had to submit my dog to be PETsident," math teacher Shannon Remy said. "I submitted m y white lab, Bailey, to be PETsident because I figured she was cute enough to raise a lot of money."
Event organizer and sophomore Hillary Xu said that the committee wanted to help animals and looked at several different city and state organizations before voting on Austin Pets Alive. Xu said she adopted her dog from Austin Pets Alive after the 2015 Bastrop floods and that she got the idea for the fundraiser after thinking about how the mayor of Idyllwild, Calif. is a dog.
"That got me thinking about our election process, and how lobbyists and investors could 'buy' votes," Xu said. "Then, in the true American spirit, I capitalized on the idea of paying for votes and turned it into a philanthropic event."
The Student Council's goal is to raise $500 for Austin Pets Alive. Posters can be found filling the hallways and classrooms with furry candidates all around the school. Both winners will also receive a gift basket with goodies for both the human and the pet. 
"I actually rescued my dog from Austin Pets Alive after the 2015 Bastrop floods," Xu said. "Since the 3rd, we have raised $500 for Austin Pets Alive. It's a really great way to unite staff and students. The staff is getting really excited and competitive."
About the Writer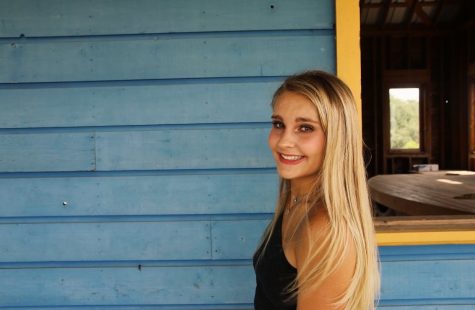 Riley Stinson, Social Media
Riley Stinson is a senior at Vandegrift, and this is her second year on staff. She began journalism sophomore year and decided to take her journalism career further by exploring the newspaper field. Riley loves to play tennis, walk her dog and find interesting restaurants in her free time.