Relay for Life set for April 26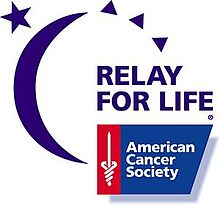 Vandegrift will host its third annual Relay for Life on April 26 from 5:30 p.m. to 2 a.m.. This community event, sponsored by the American Cancer Society, will take place at Monroe Stadium. Students, parents and the community are invited to participate.
"Everybody that I know in my family has been affected by cancer somehow," Relay for Life co-coordinator Christa Martin said. "Relay for Life is our biggest service project of the year for Key Club. We have a $25,000 goal and it's been great working with Student Council."
Cancer affects more than one million people every year in the United States. It is the second most common cause of death in the US, following heart disease.
"There are way too many people who die from this horrible disease and we need to change that," Relay for Life co-coordinator Shana Duke said.
Teams of students, staff and community members contribute to the cause by fundraising for the American Cancer Society up to the night of the event. Some of the teams include PALs, Interact, Fishin' for a Cure, O.I.L., and Life Savers. Throughout the night, one member from every team will walk the track. Along with the seriousness of the fight for the cause, an entertainment portion of the event consists of music and activities during the night.
"I wanted to help out and make it fun for everyone because it was definitely fun last year," entertainment committee member Rhea Adhikary said.
The theme of Relay for Life is "Cancer Never Sleeps," which is why the event runs into the next day.
"Relay for Life is a great event that provides the opportunity to raise money for a good cause," cancer survivor Jordan Sekiya said. "It's one of my favorite fundraising events to go to because it is really fun and you get to stay up all night."
To Sign Up For a Team:
Go online to main.acsevents.org
Select Vandegrift High School
Select your team
Last day to sign up is April 19
$10 fee to sign up (goes toward participant's fundraising goal)
Participants are committed to raising $100 for American Cancer Society
 VHS Relay for Life website: http://relay.acsevents.org/site/TR/RelayForLife/RFLCY13PL?fr_id=48697&pg=entry&__utma=54177207.681857772.1360854513.1360854513.1360854513.1&__utmb=54177207.2.10.1360854513&__utmc=54177207&__utmx=-&__utmz=54177207.1360854513.1.1.utmcsr=%28direct%29%7cutmccn=%28direct%29%7cutmcmd=%28none%29&__utmv=-&__utmk=85212445