Valor Day Honors School Namesake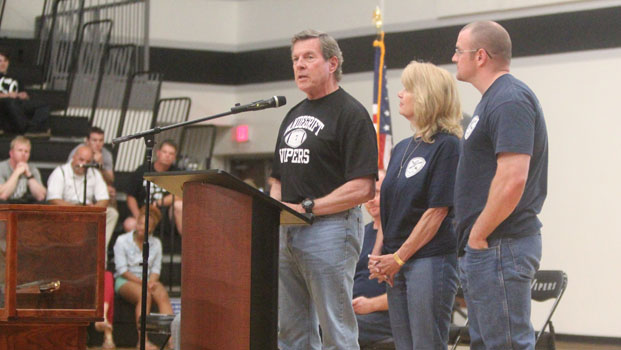 Avery Brillante, Staff Writer
April 30, 2012
Someone with "valor" is often a hero. They are the image of courage and bravery, especially in battle. The word "hero" is the simplest way to describe our school's namesake, Matthew Vandegrift.
Valor Day is something that represents the honor that Matthew gave to his country by his willingness to serve beyond himself. He gave his life for our country in a way that many do not have the bravery to do. On April 20th of this year, we will once again join together as a school to celebrate the man we are striving to represent.
"Typically, Valor Day occurs on April 21st, the actual day Matthew died; however, this year the 21st falls on a Saturday, so the ceremony will occur on April 20th," Phyllis Boddorf, assistant to Principal Little, said.
On Valor Day, we will have a school-wide assembly where there will be guest speakers like Coach Sanders, James Twine, a friend of the family, and Barrett Vandegrift, Matthew's brother.  His father, Mr. Vandegrift, will also be speaking.
 "VHS is named in honor of Lt. Vandegrift, a Leander High School honors graduate (Class of 1999) and athlete who was killed in Iraq on April 21, 2008. He graduated from Texas A&M University with honors and a degree in international business, before being commissioned in the United States Marines Corps in August of 2005. He was killed just four days after his 28th birthday," Boddorf said.
Another tradition that coincides with Valor Day is the selection of students to receive the "Second to None" award, which goes to those who best represent the values that Matthew chose to live out in his own life. The students that receive this award will also participate in the ceremony.
"The living connection between the Second to None student honorees is a tangible way that the character, values and spirit of Matthew's sacrifice live on in our students," Boddorf said.
The students here also feel strongly about their role in this ceremony, even if it's just to be a respectful audience member.
"I think it's really cool that we get to participate in Valor Day. I think that it's important because it allows us to get to know Matthew and what made him unique through stories and the things they talk about," sophomore Maria Rana said.
Students for generations to come will be able to honor Matthew Vandegrift and learn about what it means to be a Viper.
"It's important we don't forget Matthew, because he's our school's namesake. Valor Day embodies his life and helps us remember the sacrifice he made for all of us," Rana said.