Kisses Flying In February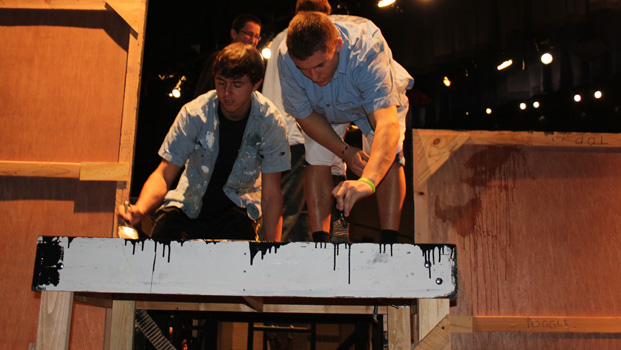 Ramie Ruble, Staff Writer
January 19, 2012
There will be kisses flying in February and not just from Valentine's Day as the fine arts departments present their first ever spring musical, Kiss Me, Kate!
This play within a play, based off the book by Sam and Bella Spewack, is a musical adaptation of Shakespeare's "The Taming of the Shrew" with music and lyrics by Cole Porter.  The play is about a pair of divorced actors who are acting together in The Taming of the Shrew and happen to act a lot like the characters they are portraying. When a fight erupts on opening night and two gangsters threaten one of the actors, there is a hindrance in production.
"The musical is so many different things combined into one show. Every different performing group is in it," Mr. Ferris, head choir director, said.
The performance features dancers, singers, actors and musicians. It takes a lot of effort to put on a show like this.
"We rehearse every day after school from four until six or six thirty, even on Fridays," Alyssa Muir, who plays the shrew-like Lilli Vanessi/Katherine, said.
Many difficulties come with putting on any show that can potentially hinder the performance: stage fright, sickness, not enough time, anxiety… the list goes on and on.
"The hardest part would be the amount of time it takes to build character and relationships with others," Olson Kelly, who plays the gambling Bill Calhoun/ Lucentio, said.
The musical, though featuring adults in the storyline, can still contribute valuable lessons to a high schooler's life.
"People should come see the show because lots of friends are in it and people will enjoy the show. It's funny, clever, there's really good music, and it's a great way to spend an evening," Mr. Ferris said.
The play will be performed in the Performing Arts Center Thursday, February 2 at 7pm, Friday, February 3 at 7pm, and Saturday, February 4 at 7pm.  Doors open at 6:30 for all shows. Tickets are $12 for reserved seating and $8 for general admission.  Tickets go on sale January 11 at www.vhstheatre.com