Eggcited for Easter: Students celebrate a 'hoppy' holiday
Kids rushed across the field in giddy anticipation of finding hidden treasures. Between bushes and underneath various obstacles, vibrant pastel colored egg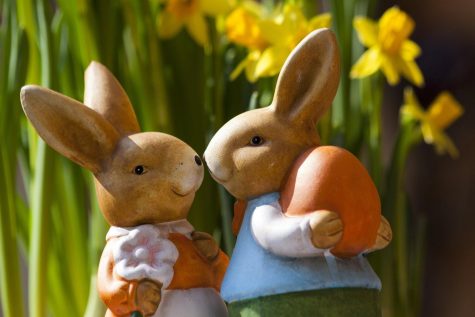 s stuck out from their concealed places. Giggles and shouts of enthusiasm filled the air and children unwrapped their half-melted chocolate candies as the Easter celebration began.
Easter will be celebrated on Sunday, Apr. 17 this year and is an important holiday to Christians and non-Christians alike. It is commonly celebrated with Easter egg hunts, going to church and spending time with the family, making Easter a great opportunity for making memories.
"I think Easter is a great celebration," freshman Gabriella Diaz said. "My family and I celebrate Jesus coming back, and that brings us together with prayer. We also celebrate with chocolate and that brings us together with food. Food, prayer and love; I think that those are the most important things in my life."
For Diaz, Easter is a time of celebration, but to others, especially Christians, Easter can mean a time of stillness. Junior Reagan Lamb said she uses this time to appreciate the quiet within a busy season and attributes the holiday to a time or remembrance.
"For me, Easter is a time of peace," Lamb said. "Normally school is very busy around that time, and I find myself not giving myself much time to actually just sit in peace with Him, but the somber holiday that is Good Friday being followed by the celebration of Easter Sunday always reminds me that even in my darkest, hardest times, there is always a hill that I just have to crest before I can see the sun on the other side. While I'll never go through anything close to the pain He went through leading up to His death, it is easy to find comfort in the fact that God has a plan for each of us and that He will get us out of the bad times."
Not only is Easter an important holiday to those that focus on the religious aspect of things, but it also holds many memorable times as families take this time to spend the day together. Diaz said Easter is something she always remembers and can look forward to each year.
"I have celebrated Easter for as long as I can remember," Diaz said. "One Easter, we went to our friend's backyard to have an Easter egg hunt. During this, I found a really beautiful large egg that had colorful patterns all over and these tiny colorful eggs inside. Afterwards, we all sat together at the table and ate turkey. It was a really simple day, but celebrating with my family and friends made it extremely memorable."
While Easter can have a lighthearted connotation to it, Lamb said that with the passing of time, she has found new meaning behind honoring this holiday. Although she said she enjoys the fun things many little kids look forward to, she now understands the solemnity behind Easter.
"Being born into a Christian household, I've celebrated Easter for my entire life," Lamb said. "However, as I've grown the meaning has changed. I used to love Easter because I liked decorating eggs, going on hunts and getting gifts from the Easter Bunny. As I got older I started to understand and appreciate the true meaning of the holiday even more."
Having celebrated Easter for her entire life, Lamb has experienced some mixed reactions to her traditions. But Lamb is grateful for the lack of prejudice toward her beliefs.
"I haven't faced much criticism for celebrating Easter," Lamb said. "I have been lucky to grow up surrounded by open minded people. Even my friends who aren't Christians have always been more curious than critical about our traditions."
Free to celebrate a holiday close to her, Lamb said Easter holds a special place in her heart. Being both a hopeful and bleak memory, she remembers Easter as a day that changed the course of her life.
"Part of the Easter tradition at my church is to participate in different stations after the Good Friday service," Lamb said. "At one of the stations, you write something that you want to give up to God and then nail it on a cross. One of the strongest memories I have from this service was a year that I stood at that table close to tears, realizing how badly I had lost myself; I felt like I could fill up an entire cross with my mistakes. This is my least favorite memory of Easter because I had never felt so lost before, but it is also one of my favorite memories."
Lamb said that during this specific Easter, she realized how powerful her faith was to her.
 "Although I felt terrible in that moment, without the realization that I could give up my sins to Him, I wouldn't have been able to lean on Him as much as I do now," Lamb said. "I know how much he can change people's lives because of how much he changed mine."
The Easter celebration holds a different significance to different people. Both Lamb and Diaz agree that the festivities unite people and spread joy.
"If I had to describe Easter in one word, it would be joyful," Lamb said. "While Good Friday can be somber, just the reminder that the day that the rock rolled away from the tomb is around the corner is enough of a promise that a better tomorrow is always there. Whether you celebrate by going to church or with the Easter bunny coming (or both) it is such a joyful day for everyone."