Band and Vision to perform at Macy's Thanksgiving Day Parade in 2022
The room was absolutely silent–and then celebration erupted. Another national achievement had just been awarded to them, and within a year, they'd be heading to New York City.
On April 21st, Wesley Whatley, the director of entertainment from Macy's announced to Band and Vision that they have been selected to perform at the 2022 Macy's Thanksgiving Day Parade.
"When I first found out, I was just shocked," sophomore Sierra Allen said. "It was just pure shock and excitement." 
They held a meeting that was also broadcasted online for current middle school students.  Along with being told the news, the band was presented a check for $10,000 for their selection as a featured ensemble.
"We were selected to go because of our outstanding performance at BOA [Bands of America] Grand Nationals in 2019 and Vandegrift has shown time and time again that we know how to wow people everywhere we go," sophomore Katie Anderson said. "And I'm sure for the parade it will not be any different."
To apply the directors had to complete an application that included three letters of recommendation from nationally renowned music educators, a video of a full marching band performance, a resume of accolades the band has received, a portfolio of press clippings from the last several years and proof of community outreach.
"Our band is constantly defining the standard at everything we do," Anderson said. "I'm sure a lot of people in the band world know us for that."
Over 100 bands applied for the 2022 Parade, and Vandegrift was chosen to represent Texas. Performing at the Macy's Thanksgiving Day Parade was on the Band and Vision's bucket list for a while, so they were thrilled to hear that they were finally accepted.
"I can't wait to go to New York City and be able to perform," Allen said. "I know it's gonna be cold, but I can't wait to see snow and just be able to perform."
Both Band and Vision have received great accolades for their successes, and the organization intends to continue to work hard for their performances.
"Most of our hard work has been done because we have already been selected," Anderson said. "But we do have to continue to strive for excellence so that we will get to do more things like this in the future."
About the Writer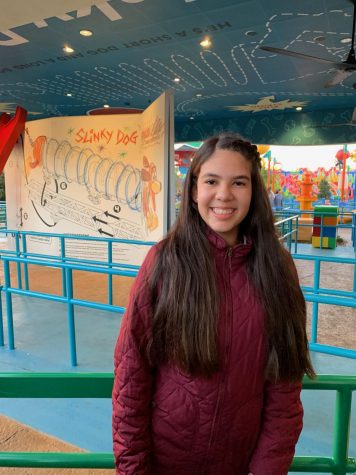 Arabella Villarroel, Staff Reporter
Arabella is a sophomore, and this is her first year on the newspaper staff. She loves to bake, read, write, travel, and loves anything and everything Disney!