UMHB soccer commit leaves behind a legacy
Not too long ago, senior Ethan Dacaret announced his commitment to play D3 soccer at the University of Mary Hardin Baylor. After all his hard work and dedication, Dacaret not only committed to his future home but also set a new goal scoring record of 48 overall, leaving Vandegrift with a legacy.
"Breaking the scoring record was one of my goals coming into the season and to achieve that is relieving and also exciting at the same time," Dacaret said. "I feel like my competitiveness and drive to become better motivates me to continue on developing my shot and technique."
Dacaret began his soccer career at the age of three. When living in Singapore, he had the opportunity to travel and play around different parts of Europe and Asia. Later on he and his family moved to the U.S. and he immediately found a way to keep soccer in his life. 
"When we arrived in Austin summer of 2019, Ethan immediately signed up for UT Austin soccer camps and college ID camps," his mother Ellen Dacaret said. "This gave him an opportunity to meet people from different countries and this is how he immediately made friends and learned from them."
While playing at Vandegrift, he learned to adapt to the environment and found his lifelong friends. With soccer, Dacaret was able to channel his skills and learned that soccer is a universal tool where you can communicate through the game regardless of where you come from or what language barriers exist. 
"This was always the case when we traveled to many parts of the world where Ethan didn't share a common language or thread of culture, but when he showed them a soccer ball everyone smiled and communication without words was possible," his father Jason Dacaret said. 
In college, he plans on majoring in international business as well as potentially furthering his soccer career professionally. Dacaret's parents describe him in three words: respectful, disciplined and competitive, all explaining his passion for not only soccer, but what has shaped him into the person he is today.
"Ethan's character affords him that opportunity, not bothered by the differences, but rather intrigued by them and is open to learning from others,"Jason Dacaret said. "At the Singapore American School where he was prior to Vandegrift, one of the core values of the school is respect [where] they must learn to respect and value each other's opinions, background, and culture, and to also openly share his opinions."
During the recruitment process, Dacaret had an advantage by already being in contact with UMHB program through his friend Elliot Keefe, a former Vandegrift student who plays for the school. Since then, he was able to keep in close contact with the coach and build a relationship that helped him make his decision.
"UMHB is close to home, they have great facilities and a fantastic soccer team with coaches who I feel like would help me not only develop as a soccer player but also as a person," Dacaret said. 
About the Writer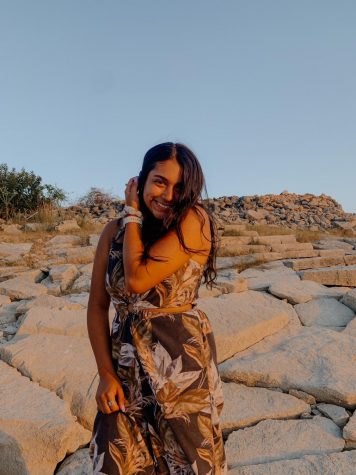 Marah Santiago, Staff Reporter
Marah Santiago is a senior, and this is her second year on the Vandegrift Voice staff. She enjoys spending time with friends and family. Her hobbies are...