Reduce and Reuse with Terrabage Jewelry
Helping the environment is one of the world's biggest struggles. From starting small and recycling, it saves twices as much energy in improving our ways of living. Terrabage, an Incubator business managed by seniors Sophia Sawyer, Megan Zeltner and Emily Frierson took a leap executing their desire in making a difference, but in a more fashionable way.   
"We are trying to raise awareness to people so they can limit trash consumption by doing the little things like reusing and recycling, it helps a lot in making a big difference," Sawyer said. 
In school they apply how everyone can leave a footprint in our environment. Students are given different methods and scenarios on why it is important. Terrabage is one of those ecological footprints as they make jewelry out of leather, metal straws and tote bags. 
"We were very concerned about the environmental aspect of it we were really harping on the fact that like a lot of people contribute to this waste like not a lot of people recycled," Zeltner said. "We like to use leather because it's really easy to work with and it makes good earrings." 
During MVP pitches in February 2020, judges didn't take them seriously. Changes had to be done in order for Terrabage to make a statement of being a real business. They took the feedback from judges and made the product even greater.
"Our products are really popular, I'm pretty sure anybody could wear star earrings with a cute outfit and it would make sense," Zeltner said. "The designs match the trends that we have right now, it's just environmentally friendly rather than fast fashion" 
Not only do they make jewelry, but they also took action by doing something called Trash Tuesdays to influence recycling throughout school.
"On Tuesday we try to share how we personally make the environment better," Frierson said. "We have that as a section on our website so I think it's informational and you're able to buy the product so it's not just one or the other, we try doing both.
They can be found on Instagram under @Terrabage, promoted by ambassadors, seniors Julia Santos, Mia Guerra and more. If you are looking to find chic and affordable earrings look into the business and remember, making a small difference goes a long way. 
"I would definitely recommend this product to others because Terrabage has a wide variety of different styles and options to choose from! I really love how they upcycled items to make unique jewelry," Guerra said.
About the Writer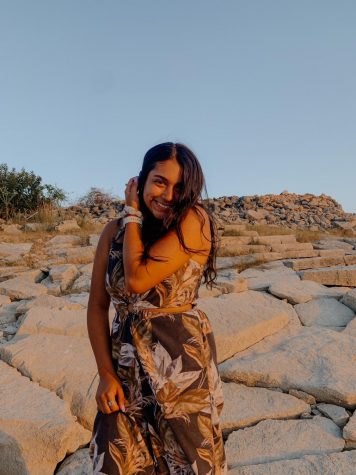 Marah Santiago, Staff Reporter
Marah Santiago is a senior, and this is her second year on the Vandegrift Voice staff. She enjoys spending time with friends and family. Her hobbies are painting and drawing. This year she is looking forward to make new memories.