Coronavirus hits close to home
Junior worries about family's safety as they travel abroad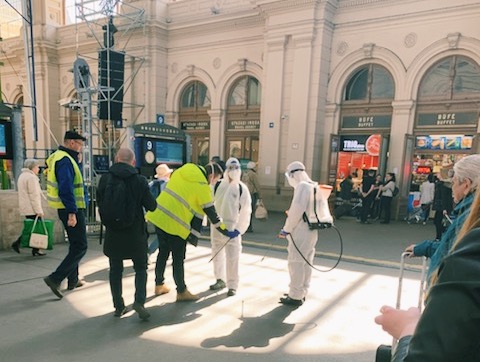 My family was crowded around the TV on Wednesday night when President Trump announced a 30-day travel ban on Europe to protect Americans from COVID-19, excluding only the United Kingdom. My mom looked at me and I could see the fear in her face when she whispered "Auntie Dina and Baba are in Europe " and my heart skipped a beat. 
My godmother and one of my mother's best friends, Auntie Dina, and her mother, who my family calls Baba, decided to continue with their spring break travel plans despite my family's advice not too. My godmother has always been headstrong and we weren't surprised when they continued with their trip, except that Dina has asthma and Baba is much older. Both are in risk groups, stuck in Hungary, and as far as we knew, with no way back.
While Trump failed to specify that American citizens returning to the States are exempt from the ban, the White House tweeted after his Oval Office address that they were, in fact, able to come home. This was relieving until we learned that Hungary had declared a 14-day home quarantine.
For almost an hour, we waited to hear from Dina, who was asleep because it was the middle of the night in Hungary. When she finally responded she said they were safe and she had plenty of extra asthma medication with her, but I was still scared. The World Health Organization had declared a pandemic and I couldn't be sure if my family was really safe.
Dina and Baba got lucky and will be flying home tomorrow if all goes well and they test negative for COVID-19, but that moment when I heard that my family might not be able to come home was terrifying. The scariest part is that I'm not the only one who has family at risk. Most people have a friend or family member who traveled recently, is traveling or is at a high risk due to age or preexisting health conditions.
While my story may be one of thousands, it brought the coronavirus directly into my life and forced me to face the fact that it is time to protect ourselves and others.