New face in classroom, on court
First day fright? Believe it or not, everyone goes through it, even teachers. English III teacher Tiffany Litton is a brand new face to Vandegrift High School. 
"So far, this year has been kind of crazy but also good," Litton said. "I know with everything that happened at the beginning of the year with the grade book and schedule chaos, everyone was stressed including the students. Everyone handled it so well. I think we came out of it really well, the best way we could."
Litton grew up in Leander Independent School District and graduated from Cedar Park High School. Before she started working at this school, she student taught at Denison High School as well as Sherman High School. She said that she already knew Vandegrift was a good place to be. 
"I'd like to say thank you to coach Jones, the head basketball coach, for telling me all about Vandegrift and our culture," Litton said. "I just knew Vandegrift was special. I wanted to be a part of it."
Litton said that she thinks English is the best way to teach kids how to be more aware of society and in general, to be a better human.
"Through English, you can learn perspective, you can learn empathy, you can learn how to communicate, you can learn how to organize your thoughts, and I think that's really helpful outside of high school," Litton said.
Other than an English teacher, Litton is also the coach for junior varsity girls basketball and an assistant coach for track and field.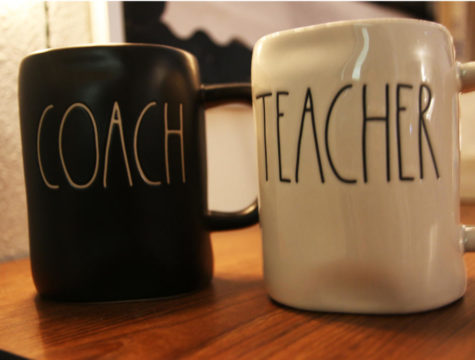 "I just love being around the students," Litton said. "I look forward to seeing the students everyday on my way to school. I think it's more fun because I have my students and I have my athletes. I just like being able to spend time with both types of people."
Junior Khrissy Thomas is in Coach Litton's first period class and the manager of the junior varsity girls basketball team. She is able to get a glimpse of how Coach Litton is in the classroom and the court. 
"It's actually really interesting," Thomas said. "She's different as a teacher and as a coach. Believe it or not, she's more quiet and reserved in basketball than the classroom. At the same time, she makes sure she helps the girls and that she's taking them where she needs to."
Thomas said it feels more personal to get to know her more on the basketball team because the team gets really close together. In the classroom, many students find it difficult to have a close relationship with the teacher.
"She's always looking to better the team and make them feel confident by complementing the girls and letting them know that if they need help, she's there," Thomas said. "She always has a smile no matter what. I feel like it gives me motivation to do better."