Students celebrate DECA month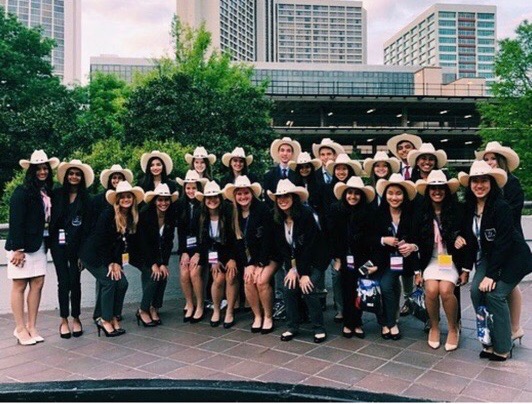 This November is DECA Month, pushing people to post pictures and participate with the business-concentrated program that is active in most high schools. Vandegrift's DECA is very successful with many individuals advancing to internationals in Florida each year.
DECA has different categories in which you can choose to compete in, each member can compete alone or with a partner.
"I have been in DECA for the years, I was in it freshman and sophomore year both years I have competed with a partner," Role-Play Committee Manager Sierra Held said. "This is my first year as an officer for the team, we went to state competition freshman year in San Antonio and then we went all the way to the international competition in Atlanta last year."
DECA's first competition this year is January 19th as a district meet.
"I've been competing all four years," senior and officer Mahi Patel said." I've also been an officer since my sophomore year. We do a project with my partner and complete business plans, I once did a competition with an on the spot plan."
DECA is a program that really allows highschoolers to get hands-on experiences in the business world.
"DECA is an opportunity to be involved and get as close to real-life experiences as I can get in the business world with other high schoolers," Held said. "Not only just regarding business but the adult world in general. Business is apart of everything, so it's important to learn that."
DECA meetings consist of not only preparing for competitions, but listening to guest speakers who come in to speak to the club about their experiences and how the kids can be successful.
"At general DECA meetings we have a speaker come and they will somehow provide insight on how to become a successful business person, how to be a successful adult in general sometimes," Held said.
Teams or individuals can compete at competitions if they keep advancing to each round. The competitions are business modeled simulations that challenge the students to use the knowledge that they have studied at home and in their meetings.
"In the past we have had very successful results with the majority of our people moving on to state," Held said. "We are really trying to put people in a position to succeed, wanting to go to internationals after going to state takes multiple accumulative weeks of work put into it. "
This year-round club is something all students can get involved with, anyone can join and be active in the club starting at the beginning of the year.
"My favorite memory in DECA is probably my very first state competition, freshman year because it was my first time to travel to a high school event,' Held said. "Also getting the experience to meet other individuals who are driven".