Senior competes in third and final state band marching contest
Advancing to finals of the state marching contest is an honor because it means your band is one of the top bands in the state. Advancing  to state is truly a great experience because not only are you around bands from across the state, but you are around the best bands in the state. For me, I'm blessed to have experienced state not only with my band friends but with people from other schools three times, which is something most people don't get to experience.
My first year going to state was in 2015, my freshman year, and probably my toughest year in high school. I was only a freshman, only having about four months of experience. I knew how much of an honor it was to advance to state, but I didn't know to the full extent. Making itto state wasn't easy. We had to start at UIL Region and get a 1 in order to advance to area, be one of the top four bands at area to advance to state, have a good prelims performance to advance to state finals and then have a good performance to place well at state finals. On top of that, I had to personally rehearse and play well. It took a while because I kept on getting called on by the percussion director, Mr. Pape, and sometimes by Mr. Howard because I was a freshman and I had to get used to the process. Even though it was a tough year for me as a freshman, I managed to push and give my all in rehearsals in order to make sure I had great performances at state. It ended up working great because we medaled at state, earning the silver medal at finals after we lost a tiebreaker to Cedar Park, who won the gold medal. I thought we could've gotten first because our show design fit what UIL looks for,but if the judges preferred Cedar Park over us, then that's what they decide. It was an amazing experience for me because I got to perform my first show with all of the people that I knew since summer band.
My next year was in 2016, my sophomore year, which so happened to be, as Mr. Howard puts it, my "bonus state" year. We went to state this year because we moved up to 6A and it was the year that 6A bands went to state so we had another shot. Unfortunately, this was a bigger task for us since it was our first year in 6A and there were three Lewisville ISD schools that had been winning state in this classification: Flower Mound, Hebron and Marcus. Everyone in the program knew that we weren't going to win because it was our first year and Flower Mound, Hebron and Marcus had been good all of marching season. Mr. Howard told us that as long as we advanced to finals, he would be fine. Knowing how hard working the band is, we exceeded his expectations and not only did we advance to finals but we placed fourth in state. It was a great year for the band because it shows that we may be a 6A band, but we proved that we belong and can compete in 6A. It was a great state year because we placed fourth in state, behind the three Lewisville schools and it shows that we're able to compete with the other 6A schools.
My last and final year was this year, my senior year, my last year in band and my final state year in high school. It was an emotional year for me because it was the final year that I would perform with this band program. This year, I wanted to give my all to the program and I wanted to win state so I could end my senior year strong. After BOA San Antonio Super Regionals in San Antonio, we stayed in San Antonio until Tuesday evening and we had rehearsals every day to make sure we were prepared. The rehearsals were very helpful as we placed third in prelims and advanced to state. Unfortunately, in finals, we placed third, getting the bronze medal at state. I was disappointed because I thought we had a shot at winning state but I'm happy with what we got. I was also proud of Vista Ridge, as they came out of nowhere this year, having a great season and ending it strong by winning state. It was a great year because I was happy with our placement and I got to meet people from other schools. Meeting people from other schools was special because the people I knew came up to me and told me how good our band is and how clean we were while we were warming up and it was something I won't forget. It was amazing because this would be the final time I get to march with people I've known ever since summer band this year or in previous years and with people I've marched with since freshman year.
Overall, I was very blessed to have gone to state three times. I'm also blessed to have great experiences because of our placements and meeting people from other schools. This program has meant a lot to me and I won't forget how much I love the program and everyone I've been around with since freshman year.
About the Writer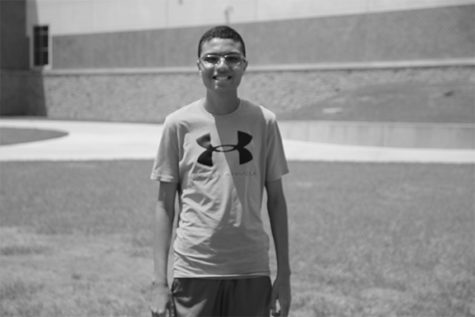 Justin Jalomo, Sports Reporter
Justin Jalomo is a senior and this is his third year on the newspaper staff. He is involved in band and the A/V department at Vandegrift. During his free time he likes to watch TV, play video games and play sports.