Cross-country prepares for 2018 season
Hang on for a minute...we're trying to find some more stories you might like.
Parents and students alike can now rejoice that athletic season is finally underway once again. Football fans of all ages can attend the newly upgraded Monroe stadium, and volleyball supporters can now closely follow the success of the girl's season. However, there is even more that Vandegrift supporters can be excited for. The cross-country season has now fully kicked off, and parents and students can expect a great season ahead.
Having performed well at the Friday Night Lights meet before the start of regular season, the athletes now look forward to running regularly and building on the success of last year. Captains Noah Dennis, Adam Ledger, Maggie McElmurry and Erin Donohue will lead cross-country heading into the St. Andrews Invitational Saturday.
For many of the runners, the dedication that comes with participating in such a demanding sport is nothing new. Veterans of the program can look back on previous years for motivation to push themselves each day in preparation for this season.
"We go out there each day, always competing, not against each other-but with each other," senior boys captain Noah Dennis said. "We had a setback last year where we made it to the regional level, but we didn't perform as well as we were hoping for, the pain of how that felt has just stuck with me and the team, so we use that as motivation to give everything we have left, its our last season so we're going all in."
Along with a hard work ethic, the cross-country program also boasts a great sense of cooperation and trust between many of the runners.
"The main thing we are trying to do with the program is incorporating everyone, making everyone feel like they are more welcome," senior boys captain Adam Ledger said. "We're having team hangouts more often where we can all do something besides running, and we just try to get everyone close together."
This sense of companionship seems to be crucial for the success of the program, fortunately, for many of these athletes fellowship comes naturally.
"I first joined without really knowing what to expect, I didn't know the team dynamic or anything," junior girls captain Erin Donohue said. "But then getting into it, you really spend a lot of time with these girls so you get really close to them and it all becomes a really tight knit community through training."
The cross-country teams will ultimately rely on the strong bonds the athletes have formed with each other, as the girls team has goals to go far in regional and state competitions.
"For the girls team, I think the challenge is definitely going to be moving up from where we were last year," junior girls captain Maggie McElmurry said. "We had a really good season and we ended up 10th in state, but we want to do better and get into the top 5, and that's gonna be a huge challenge for us."
The boys team will also be facing many challenges in their pursuit of performing well in state competition, with many runners looking to maintain the cross-country program's first-rate reputation.
"I am very confident that we can reach regional level," Ledger said. " We have a very talented program, we even have a lot of very talented freshmen coming through, so I think this year we could even make state."
The runners have been grinding tirelessly ahead of the season, as cross-country is certainly physically demanding and exceptionally competitive. Despite this, 103 athletes are willing to face the challenge of the upcoming season.
"I'm always amazed at the amount of kids that want to do distance running this time of year. It's hot, it's 5k, it's tough," head cross-country coach Colin Sully said. "I want their hard work to pay off, I want to see how far we can go. I want both boys and girls groups to get to state, but unfortunately we can only take seven kids and we have a 103 athletes on the team, but we always say that if one goes, we all go."
The beginning of athletic season has always been trailed by immense amounts of hype, and fans are eager for how well the school can represent itself. Fans of cross-country should be filled with anticipation, because if the high expectation of the captains and coach are any indication, the cross-country program has no intention of slowing down.
"All of our kids are trained to compete and you're gonna see them up front," Sully said. "You're going to see these athletes challenging for positions and you're going to see kids winning races. They're ready, they're ready to compete, they want to compete, it's a great group of kids, and any followers should pay attention cause we're going to be good."

About the Writer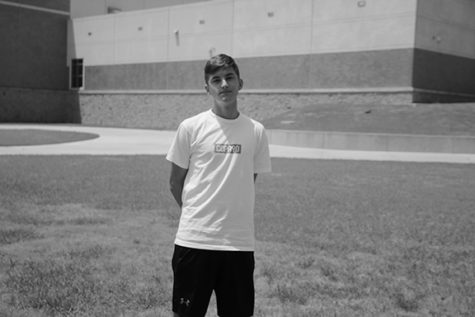 Miguel Blanco, Staff Reporter
Miguel is a senior and this is his first year on the Vandegrift Voice staff. He enjoys learning about history, spending time with his friends and loves...