Students place in UIL state competition
Various UIL academic students placed in state at the latest competition May 4. Students from journalism, computer science, science, social studies and spelling/vocabulary all participated at state, regional and district competitions.
Junior Lucy Xu who was involved in the UIL science team and placed first in chemistry for state. The science competitions consisted of 60 questions, 20 each for biology, physics and chemistry.
"It's very intellectually stimulating and I also really enjoy interacting with everybody else on the team, seeing what they know so we can all help each other," Xu said. "The team all practices together. We're not as cohesive as an athletic team would be, but we do support each other and try to help each other with things we don't know."
Junior Jennifer Walker was a part of the UIL journalism team, and took fifth place at state in headline. Junior Sarah Tierney placed fourth in the journalism new writing competition.
"Last year, I was in the newspaper staff and I noticed that everybody was joining, so I decided I wanted to join this year," Walker said. "The competitions are really fun, it's just a lot of craziness, for me at least, it always seems like everyone else is so calm.
Headline writers are given six stories and then using these small stories, they write a headline based on that. They also have to keep everything within certain character limits. News writers are given a prompt with information and quotes and have 45 minutes to write a news story.
"My favorite part about UIL headline writing is that I sometimes get some pretty funny stories that I needed to write headlines about," Walker said. "There's been a story about a junior getting attacked by a squirrel and then another one about waffles, so those were pretty funny. I just like the challenge of it, it feels like a puzzle you have to solve."
In order to get all the students with their teams to the competitions and sign them up to compete, UIL coordinator and English teacher Madeline Fulton is responsible for the behind the scenes work.
"I love getting to see a different side to the kids.," Fulton said. "When you're in class you get to connect with students, but not quite the same way as when you're doing extracurricular activities and connecting kids to their passion. It's really fun and rewarding."
Suhas Avirneni from the UIL accounting team took first place and went onto compete in the state competition on Saturday May 5. UIL social studies team participant Rayhan Jhanji placed first at region and will go onto the state competition.
About the Writer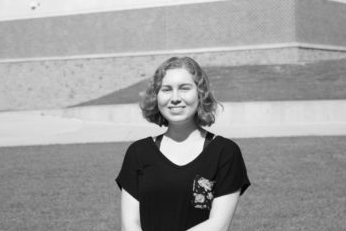 Caitlin McKeand, Co-Editor in Chief
Caitlin McKeand is a senior and this is her second year as a staff reporter for the Vandegrift Voice. In her free time, she enjoys reading, writing, archery, and dogs. Austinite born and raised. She is the Vice President of ASL Honor Society and works for the Riverplace Living Publications for the housing segment. One day she hopes to write a book.