Austin Capital 10k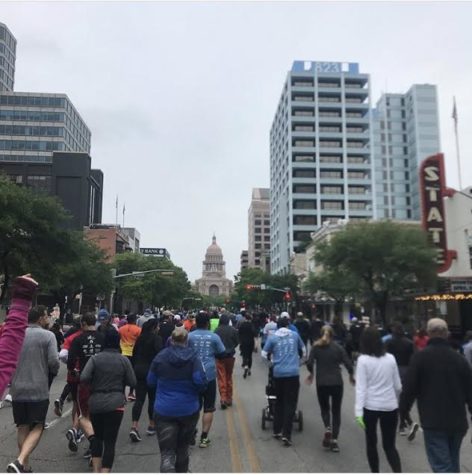 The 42nd annual Capital 10k held in Austin was ran on April 7 2018. With 23,200+ registered racers scheduled for the event it was sure to be buoyant. The Capital 10k is the sixth largest 10k in the nation. Many students and faculty attended the 6.2 mile Austin tradition.
"I ran with my Dad, it was our first 10k. We have been working really hard to get in better shape together, we thought it was cool to literally run around downtown." said junior Raylin Said. "We eat at the restaurants all the time. To go downtown and actually run helped us find another activity that we could do there together."
The run posed many obstacles, with the sheer distance, many runners struggled to finish. With the added terrain like hills and crowding, many exerted more effort than they had planned.
"The run started to get difficult for me around mile three, it had lots of hills, no one likes running up hills. The distance was also a challenge, I haven't been training for very long, it was definitely a challenge, but I'm glad I did it," said Lela Coker.
Aside from the added terrain the weather was also colder than expected. Many individuals had to wear warmer clothing to protect themselves from the bitter weather.
"I had to wear a compression shirt underneath my 10k T-shirt to keep myself warm. I decided to wear shorts which was a "BIG MISTAKE", my legs were so cold!" said Said.
Besides the treacherous weather the runners had great energy and a positive attitude heading onto the trail. This can partly be attributed to a healthy and protein packed breakfast.
"I ate a granola bar and a banana when I first woke up followed by a piece of peanut butter toast and water on the way to the capital," said Said. "I'm glad I spaced out the heartier breakfast, because I ended up having a lot of energy before the run was even started."
Overall the run was a success and many of the runners plan to continue the Austin tradition, and maybe create one of their own.