Book Review: All the Bright Places
The book All the Bright Places by Jennifer Niven is the story of two teenagers that meet on the ledge of the school bell tower, and how their compromising interaction turns into something more.
One of best parts of this book is the characters. Theodore Finch is obsessed with death, thinking of ways he could die every day, but he always finds something to keep himself breathing. Violet Markey is focused on the future, waiting out the days until graduation approaches so she can escape the small town she lives in and the grief of her sister's death. From a first person viewpoint, both of these very different characters tell their intertwined story from their own perspective. The characters develop wonderfully throughout the book and they have strong and impactful personalities. Finch especially is a character that you automatically connect to, because of his witty and lively nature. Violet is a little harder to connect with, but her character grows on you eventually.
Another great aspect of All the Bright Places is the plot. After meeting at the top of the school bell tower, Violet and Finch become partners on a class project to discover the "natural wonders" of their state, Indiana. Starting off as light hearted love story, this story unfolds into something deeper, becoming more and more dark as you find out about the pasts of both characters.
One thing that the author should have done was go more into the death of Violet's sister. Although mentioned, making significant connections to both main characters, the author doesn't really doesn't go into this topic enough. Niven could have definitely done a better job linking this big event to the storyline.
Overall, All the Bright Places is an excellent novel and I highly recommend this book to anyone who likes realistic fiction. Even if you don't like realistic fiction, it is still a great book to past the time. This is a heart-wrenching, beautiful book that I would give five stars out of five. Just stunning.
About the Writer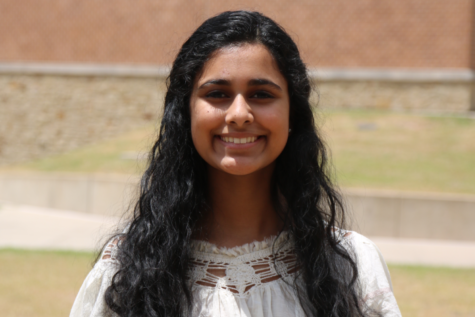 Harshita Avirneni, Spotlight Editor
Harshita Avirneni is a senior and this is her third year on the Vandegrift Voice staff. She joined newspaper because she wants to pursue a career in journalism. Harshita is also involved in UIL journalism, robotics and FCCLA.