Baseball makes playoffs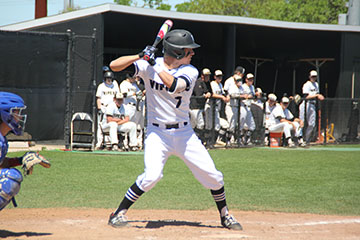 The varsity baseball team has made school history by advancing to the playoffs for the first time. Their first round opponent is San Antonio Churchill.
"It feels great," senior Johnny Foral said. "It feels good to flip the story on things and make history for the program. I'm excited to get out there and play."
In the series, Foral is looking forward to playing a team as skilled as Churchill.
"It's a big deal that we're going up against a team like Churchill," Foral said. "We're just excited to get out there and play."
Over the past couple weeks, practice has been different, as they are taking a more light approach.
"We're going out there, playing loose and having fun," Foral said. "The biggest key to getting ready for the series is just treating it like a normal game."
During the series, Foral said he will leave it all on the field to make sure his team wins and moves further in the playoffs.
"I'm going to go out there and give everything I got," Foral said. "I'll also try to have fun because it's just another game."
Senior Ryan Holstrom said he will do his part in the series against Churchill.
"If I'm not playing, then I will encourage others and cheer on my teammates," Holstrom said. "If I am on the field, then I will do the best I can."
If the team wants to win this series, they must play together and communicate well.
"We need to make sure that everybody pulls for one another," Foral said. "Also, we need to make sure to have everybody out there just like district."