Joshua Collmann
"Do you know where you want to go to college?"
I do know where I want to go to college. UT Austin. Hook 'em Horns.
"What about your major?"
I'm doing Geosystems Engineering and Hydro-geology.
"What made you want to major in that?"
I have no idea, but I like rocks a lot. And my boys like rocks too. Put two and two together, I got my major.
Josh's Friend- As the representative of his boys, we agree to all statements made.
"What are you doing with your life?"
I am going to college. And then I'm gonna join some company and I'm gonna make water excavation more clean, so oil and other stuff won't get in it. That's what I'm gonna do with my life, but right now I'm not doing anything. It's pretty much just going to school, and I get off periods.
"What would your ideal day be like?"
It would be me and my boys chilling all day and floating the river and then that night it would be me and my boys, hooping. That's an ideal day.
"Is there anything else you'd like to add?"
Know that you can do anything you believe in.
About the Writer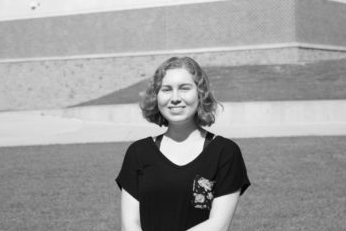 Caitlin McKeand, Co-Editor in Chief
Caitlin McKeand is a senior and this is her second year as a staff reporter for the Vandegrift Voice. In her free time, she enjoys reading, writing, archery, and dogs. Austinite born and raised. She is the Vice President of ASL Honor Society and works for the Riverplace Living Publications for the housing segment. One day she hopes to write a book.