"Props" to yearbook
2016 yearbook receives two awards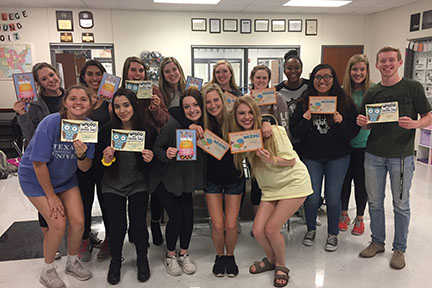 Hang on for a minute...we're trying to find some more stories you might like.
Recently, the 2016 Veteran yearbook won two awards based its superior theme and theme development, organization, quality of design, photography, stories, captions and headlines. The 2017 yearbook, which will come out in May, was also selected as a National Yearbook Sample by its publishing company, Balfour.
"It is exciting when our book is recognized as being one of the best yearbooks in the state and in the country," yearbook advisor Lela Coker said. "The yearbook staff puts in countless hours outside of class working on this publication.  A lot of people don't understand exactly how much work goes into making a 300+ page book. We always strive to make a yearbook that will be well received by our students and community, but that is also a top notch publication."
The 2016 theme, "Props" and the 2017 theme, "Relentless," were both conceived with the intention of representing the spirit of Vandegrift during that year.
"We came up with the theme 'Props' when we were at a yearbook camp at TCU in July of 2015," senior co-editor Claire Costilow said. "We wanted a theme that praised Vandegrift students for all of their recent success.  At yearbook camp at Texas A&M in July of 2016 we came up with the yearbook theme 'Relentless.' This year we moved up to 6A, which is much more challenging than 5A, and we wanted a theme that showed that we aren't going to stop pushing to be the best."
After all of their hard work, the honors that the staff has received have instilled a feeling of pride in all of the students.
"It feels great to be recognized because it means that we truly are the best," senior co-editor Kelli Steward said. "When we go to presentations at camps and workshops, our yearbook will be used as a good example for other schools to look at. This is really amazing to think about because when yearbooks have been shown to us at camps, I never thought that someday ours would be one of them."
However, the Vandegrift yearbook did not simply walk its way to the top. Through the combination of a hardworking and tight-knit staff, the yearbook was able to become something truly amazing.
"Our staff is a lot closer than most other staffs in the country," Costilow said. "We are all friends outside of yearbook and we are able to take each others critiques better because of that. We are all aware of our strengths and weakness, which makes us work better as a team."
Steward also agreed that the staff is what made the Vandegrift yearbook exceptional and unique.
"I think that our yearbook became one of the best because of our adviser and the staff," Steward said. "Our adviser, Ms. Coker, is very meticulous, so that helps when editing pages. Our staff is also very relentless when working. They never stop putting in work. The girls and Preston work hard to get their pages done, no matter what."
While the Vandegrift yearbook is distinguished, it is more than that that makes a yearbook. Costilow feels that she has gained more from her time on the staff than the books themselves.
"I love being on the yearbook staff because I think it is so important to have a school family that you can always count on. The girls in yearbook are like my sisters and I know I can count on them for anything. Also, nothing beats watching the amazing process of the whole book coming together from nothing."