Varsity Boys Basketball defeat Hays 73-65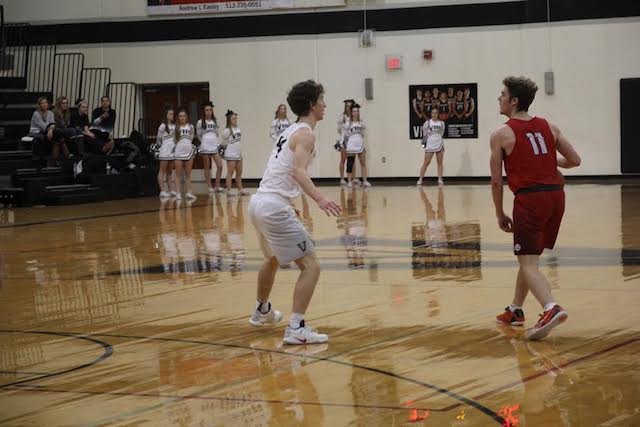 Vandegrift defeated Hays 73-65 to win their first district game this season.
"Any win in district is a good win," head coach Cliff Ellis said. "It doesn't really matter who we're playing. We needed one since we had back to back overtime losses to Leander and Vista Ridge so we just needed to ride the ship, get into the win column and look forward to the second round of district and see what happens there."
Throughout the game, the team did what they had to do in order to come out victorious.
"Every game in our district is like a playoff game, so everybody is prepared, everybody knows everybody in the district scouting wise, so we had to be prepared, and that game, we weathered a storm," Ellis said. "They had one kid that went off for 35 points and he couldn't miss that night, but we did what we needed to do, we regrouped and battled through. It was a nice team game because we had everybody score so that's what helped us get our district win."
Before they played each other, both Vandegrift and Hays came into the game with 4 losses, and the Vipers had to win this game in order to stay in the playoff hunt.
"I can't say they're playoff bound right now," Ellis said. "Right now, we're still in the hunt, we got a lot of basketball left to play and we're going to have to play really well on the back side and maybe get some help from other people. We're not eliminated yet by any means but making it is going to be a tough road and we're going to have to play extremely well in the back side of district."
In the game, senior Morris Aranda contributed to the team with 11 points.
"It's definitely up there," Aranda said. "I think all around, the team played very good, defense could've been a little better but we did what we needed to get done."
Freshman Greg Brown also contributed with 15 points and was the leading scorer for the team.
"There have been better games," Brown said. "Vista, that was a really good game, and I did the other things well like rebounding, hustling and getting good steals."
Senior Alex fernandes contributed as well with 7 points.
"We just had a big win over Lake Travis, which is probably a better team than Hays," Fernandes said. "Thus far, I'd say this has been our most important win."
This game was great for the players, as they played together as a team in order to be victorious.
"We strategized for each team each game but we played hard," Fernandes said. "We executed our gameplan and we shot the ball well and came out on top."
Now that Vandegrift won their first district game, they plan to continue to win more games in order to have a shot at going to the playoffs.
"We have got to made shots," Ellis said. "All we have got to do is score one more point than the other guy, but it's tough to do in this district so we're just going to keep working and trying to improve every single day in practice. In games, we have got to make shots, make free throws, defend well and most importantly, we have got to rebound the basketball."
The varsity team will now prepare for their toughest game yet against Lake Travis.
"Each game is its own little game; we don't really worry about what happened in the past or we don't look forward for what's in the future, we're just looking at Lake Travis for tonight," Ellis said. "Our prep work for Lake Travis looks nothing like our prep work for Hays because every team is different that we're facing, so we have to prepare to beat Lake Travis, which is a very, very different team, they're big, they're strong and they shoot the ball exceptionally well. It's a much different animal than hays so we have got to make sure that we're prepared and the kids have watched film, we're getting ready; hopefully we go over there, we play our best and we'll see what happens."
The junior varsity team played Hays as well and also came out on top.
"It feels great," sophomore Jackson Oliver said. "I played outstanding that game."
About the Writer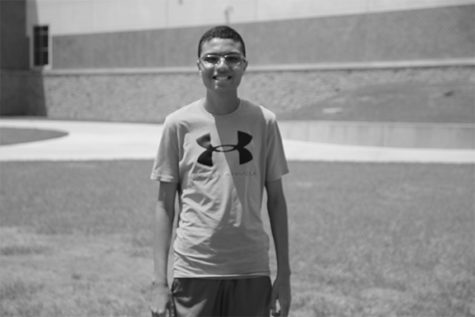 Justin Jalomo, Sports Reporter
Justin Jalomo is a senior and this is his third year on the newspaper staff. He is involved in band and the A/V department at Vandegrift. During his free time he likes to watch TV, play video games and play sports.