Senior signs with Stanford
Hang on for a minute...we're trying to find some more stories you might like.
Last week, wide receiver Paxton Segina signed with Stanford, a deal that included a full scholarship, marking the beginning of a career playing for the PAC-12 and Ivy League university. Paxton Segina had previously decided, on Jan. 23, to switch his commitment to Stanford from Rice.
"No other school can offer what Stanford has to offer," Paxton Segina said. "From a young age, it has always been a dream of mine to go to both a great athletic and academic school."
Paxton Segina is a prominent player on the school team, as shown by his perseverance after he obtained a concussion during a game in November. For both his strength after this incident, as well his efforts on the field, he was given the team's Second to None award. He had previously decided to play at Rice, and though he is excited to play for Stanford, he does note several of the advantages Rice has, not least it's proximity to home.
"I love my family, I love my friends,"  Paxton Segina said. "Being a thousand miles away definitely isn't going to be fun at times."
Paxton Segina's family and friends had very positive reactions to his decision. Paxton Segina's mother, Wendy Segina, expressed a significant amount of pride in her son's accomplishment.
"I could not be happier for him," Wendy Segina said. "He has always dreamed of going to Stanford, and the fact that he's playing football for them makes it even better!"

About the Writer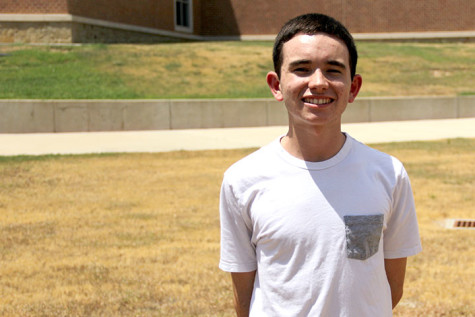 Johnny Morreale, Writer
Johnny Morreale is a staff writer for the 2015-16 school year Vandegrift Voice newspaper. He is fond of the written word and reads frequently, though not as much as he used to thanks to the soul-crushingly large amount of homework he now has every night. When not at school, he swims, studies and works at the River Place Country Club.