Students start welding business
Hang on for a minute...we're trying to find some more stories you might like.
In America, the greatest thing you can be is an entrepreneur. Men such as Steve Jobs and Elon Musk, who built entire empires out of nothing, are frequently idolized.Though they are far from the norm, self-employment is often described as a high achievement. These individuals are the epitome of the American dream, having made their way to the upper stratum of society through their own efforts and creativity.
Seniors Spencer Ellswood and Miles Eldred have managed to join this unique class of self-made men by starting E² Custom Metal Works, a welding business that specializes in metal artwork. They started the E² nearly four months ago, in order to transform their passion into a profit.
"We've always wanted to build cool stuff, so we figured we might as well get paid for it," Ellswood said.
The owners have several years of experience with welding, having learned the trade from multiple sources, including the AG Facilities Design and Fabrication class.
"I think it's a great idea, what they're doing," Agriculture teacher Joe Lemmons said. "The metal they bring in looks like the job of a professional."
Both note the many benefits of self-employment, such as the ability to work your own hours, work with your friends, and be your own boss. But they also explain the hassle of the necessary paperwork, and the crushing accountability.
"If you fail, you've got no one else to blame but yourself," Eldred said.
But for now, their main problem, in Ellswood's opinion, is the lack of available time to fill all of their orders.
"If we wanna do some crazy explosive, or some jacked-up 100cc motorized drift-anything, we don't have time to do it," Ellswood said.
And they appear to have been successful in their goal to turn their interests into an income.
"We're definitely not rich or anything, but we're making a decent amount," Eldred said.
If you want metalwork done and would like to order from E² Custom Metalworks, you can visit their website at E2CustomMetalWorks.com.
About the Writer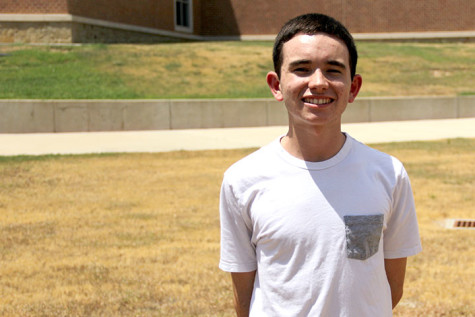 Johnny Morreale, Writer
Johnny Morreale is a staff writer for the 2015-16 school year Vandegrift Voice newspaper. He is fond of the written word and reads frequently, though not as much as he used to thanks to the soul-crushingly large amount of homework he now has every night. When not at school, he swims, studies and works at the River Place Country Club.