Sherlock: The Abominable Bride
Sherlock Holmes has been adapted into several different platforms— from books to several TV programs, movies and the amount of actors that have played him, nominally Robert Downey Jr., Ian McKellen, Christopher Lee, Michael Caine and of course, Benedict Cumberbatch, the series has become so widely known that everyone should know it by now. However, the most famous series to date is Sherlock starring Benedict Cumberbatch and Martin Freeman set in modern times. With just three seasons so far, the show has won multiple awards and set a precedent for each installment to come.
The holiday special Sherlock: the Abominable Bride, premiered on BBC last Friday, but featured a special screening in AMC theaters yesterday, and will show again tonight for the last time. Taking place in the 19th century but also including modern times, the special featured Holmes' and Watson Victorian counterparts, who were surprisingly similar to the modern ones, solving the mystery of a bride who had risen from the dead and wreaked havoc several times. The story was exciting and strikingly shot but felt slightly cliché, though it had a creative twist. But one of the most exceptional things was the set. It was beautiful and vibrant, and was almost like 221B Baker Street had gone through a time machine to the 1800s. More than anything, the special filled some unanswered space and showed character development that had yet to be seen, underlie a political message and foreshadow the coming season, which begins filming this spring and may not have any yield for more than a year to come.
As for the characters, one of the most prominent scenes in my opinion offered something that I was very surprised to see: brotherly love between Sherlock and Mycroft. In fear of him overdosing on drugs, Mycroft would ask Sherlock to write down what he had taken while they were growing up so he would know if he found him. Several years later, Mycroft was shown still taking care of him, making sure that he had kept his list up to date—and kept me wondering if there actually were loving feelings between the two.
The whole thing was just as creatively shot as a normal episode, and it was new and different to see both the 21st century and 19th century teams in the same span of 90 minutes. As a special bonus, there is trivia and a set tour before the movie, which really served to show just how much work was put into the production. Overall the special is well worth the watch, and especially exciting to see in full glory on the big screen.
About the Writer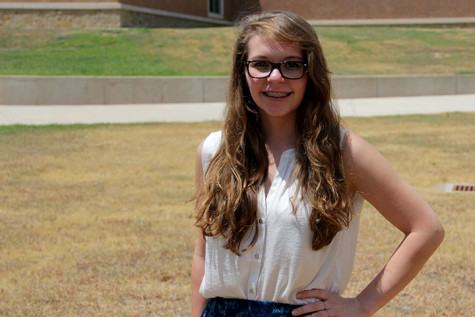 Laura Figi, Web Editor in Chief
Laura Figi (though commonly referred to just as "Figi") is the Web Editor-in-Chief for the 2015-2016 year. She enjoys writing and competing in UIL for the journalism team. Laura is Historian of the French National Honors Society, and a member of French Club and Philosophy Club. Outside of school Laura enjoys playing ukulele, singing, taking pictures of bands and downtown Austin, and playing video games. Laura plans to go to college in-state and study newspaper/broadcast journalism, photography and French.