Who would win if aesthetics determined the winner of the Super Bowl
It's December and America's favorite pastime is starting to slowly wind down. So let's take a look into the hottest NFL team and make an executive decision based on team color, city, players and quarterbacks to see who will win football's biggest game of the year, the Superbowl.
Team color
The team color says a lot about the team, it is what all the fans will be wearing so the color does not just affect the 54 players on the team, it affects the thousands of fans that attend the games and rep the on their back (literally).
Dallas Cowboys – known as "America's" team, the classic dark blue and silver will never go out of style.
New England Patriots – They are the colors of the American flag and their mascot is a patriot, what is better than that?
Chicago Bears – Orange and blue don't really go well together, but when you put them on 54 players it seems to all of a sudden work.
New Orleans Saints – Black and Gold enough said. So classy.
San Diego Chargers – Yellow and blue with a lighting bolt, looks pretty good to me.
City
Each team is from a different city, if I had to pick a team strictly based on location here are the five places that I would want to be hailing from.
San Francisco 49ers
Miami Dolphins
New Orleans Saints
New York Giants
Houston Texans
Players
With 32 teams and each team having 53 players, the total number of NFL players is 1,696. But out of all of those players I am going to narrow it down to the top 10 players based on looks of course.
Eric Decker – New York Jets

Jordan Cameron – Cleveland Browns

Danny Amendola – New England Patriots

Clay Matthews – Green Bay Packers

JJ Watt – Houston Texans

Russell Wilson – Seattle Seahawks

Rob Gronkowski – New England Patriots

Victor Cruz – New York Giants

Chris Long – Detriot Lions

10.Arian Foster – Houston Texans
Quarterback
The quarterback is the face of the team, you either love or hate the quarterback,. tThey have to have a good arm, are quick-on their feet and be able to think fast. Here are the top 5 hottest quarterbacks in the league.
Tom Brady- New England Patriots

Cam Newton – Carolina Panthers

Russell Wilson – Seattle Seahawks

Jimmy Garoppolo – New England Patriots

Colin Kaepernick – San Francisco 49ers
So if this year's Superbowl was strictly based team colors, city, players and quarterbacks then the winner will be… the New England Patriots. They averaged the most points out of every team. But what really made them stand out from all the others was their quarterbacks, not just one good looking man with a great arm, but two.
About the Writer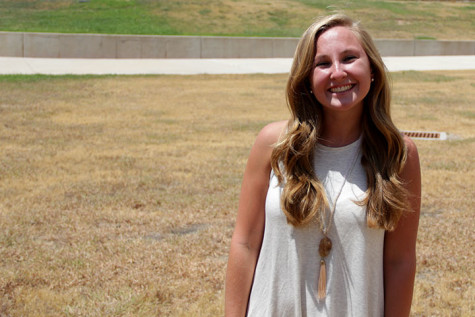 Kate Murphy, Newspaper President
Kate Murphy is a senior, she has been a writer of the Vandegrift Voice for three years. She is the current President for the Newspaper where she plans events and helps encourage her fellow students. Kate enjoys writing about sports and lifestyle articles, she enjoys writing about her fellow classmates and getting to know them. Go Vipers!