Toys For Tots returns to Vandegrift
Hang on for a minute...we're trying to find some more stories you might like.
The holidays– where you can eat and sing (not necessarily at the same time) until your heart's content. Children especially look forward to this time of year, since all they have to do is wake up early Christmas morning to find a plentiful bounty of presents underneath the tree. But for many children from economically disadvantaged homes will wake to find only air. Toys For Tots, a national program created in 1995 by the Marine Corps, aims to remedy this by distributing donated gifts to less fortunate families around America. And, in cooperation with PALS, Toys for Tots has extended its operations to Vandegrift, in order to ensure that Santa Claus does not skip any houses in Austin this year.
"I think it's a wonderful program," PALS teacher Amy Gallagher said. "Who doesn't want to wake up Christmas morning to find a bunch of presents waiting?"
This is the second year that Toys For Tots has appeared at Vandegrift. Toys are left in donation boxes that can be found around the school. Once the program has ended, the toys are packaged into boxes and shipped to the airport, where they are gathered and held for several days before being shipped again to distribution points around Austin. Parents then appear at the centers to receive the gifts. Vandegrift managed to gather eight boxes worth of toys last year. Gallagher is optimistic that donations will increase.
"We didn't do it as big last year," Gallagher said. "Our goal is to get at least 10 to 15 boxes to pass on to them."
Toys For Tots runs until Dec 9. Students can participate in the program by donating a new, unwrapped toy, which can be placed in any of the Toys for Tots drop-off locations located around the school. Students who are unable to purchase a toy can still help out by volunteering in the many local distribution centers. Further information can be found at the organization's website, toysfortots.org.
"It feels great to help underprivileged kids get new toys that they may have not received otherwise," senior and PALS member Bailey Middleton said.
About the Writer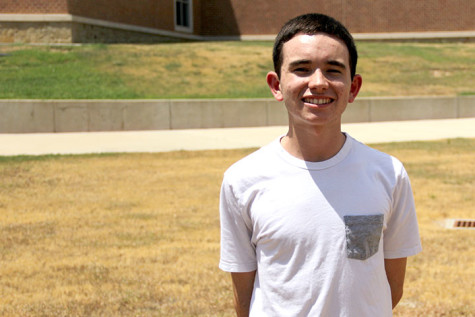 Johnny Morreale, Writer
Johnny Morreale is a staff writer for the 2015-16 school year Vandegrift Voice newspaper. He is fond of the written word and reads frequently, though not as much as he used to thanks to the soul-crushingly large amount of homework he now has every night. When not at school, he swims, studies and works at the River Place Country Club.