Volleyball goes to Regional Tournament
Not just once, but twice has volleyball defeated Cedar Park, our arguably most elusive rivals. For the first time, volleyball will ascend to the fourth/regional round. After a season of crushing victories, usually on a 3-0 scale, volleyball is going to get a shot at the dream of going to state.
The team left Thursday, escorted by the drumline, under a cloud of fans and cheers on to Corpus Christi. They are scheduled to face Victoria West tomorrow at 4 pm
"It was awesome." sophomore Simone Priebe said. "It's not enough to beat [Cedar Park] once, you've got to beat them twice."
Cedar Park's season was ended at the last game, and if they win the regional they will go on to state, possibly to face Dripping Springs for the second time this year. This would be the first time in history that they go to state or even advanced past the second round.
"Ever since I got onto the varsity team, I've always said 'Vipers to state!' and I really hope that happens." junior Jacqueline Ribeiro said. "We're all really pumped and I think we can do it."
The team has had lots of time together over the past few months to bond and prepare for the season. Several retreats later and the team is closer than ever, they have worked extremely hard to get to where they are in this competition. The bond that the team has will be the reason for why they go so far in the regionals.
"Normally teams get super excited and crazy when they play, and that does not work for us," sophomore Ryan Palmieri said. "We just take breaths and calm down before we play."
Varsity Volleyball has made great effort to go to regionals, now that they are there they will hopefully continue to pursue forward in many competitions, as well as to not stop the fight and drive that is allowing them to stay on top. Friday shall revile what is to come next for volleyball history.
"We've already made so much history," Senior Lexi Lopez said. "I just hope when I leave, the other class will come up and continue to add to the Vandegrift legacy."
About the Writers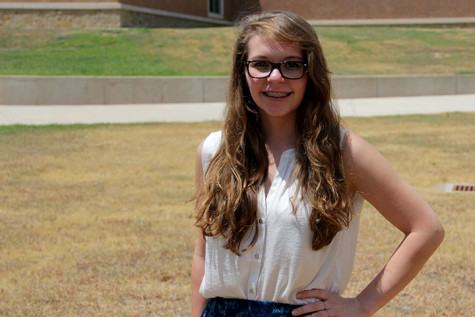 Laura Figi, Web Editor in Chief
Laura Figi (though commonly referred to just as "Figi") is the Web Editor-in-Chief for the 2015-2016 year. She enjoys writing and competing in UIL for the journalism team. Laura is Historian of the French National Honors Society, and a member of French Club and Philosophy Club. Outside of school Laura enjoys playing ukulele, singing, taking pictures of bands and downtown Austin, and playing video games. Laura plans to go to college in-state and study newspaper/broadcast journalism, photography and French.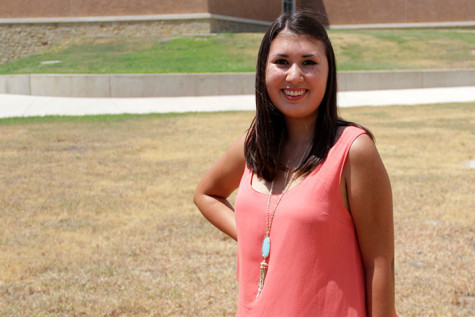 Jasmine Moreno, Lifestyles/Reviews/Entertainment Editor
Jasmine Moreno is the Entertainment Editor of the paper. She is a senior and first year member of The Voice. She enjoys writing poetry, stories and is an avid reader.  She has taken several higher level literature courses and is serious about her position as a writer. She plans to go to A&M University and hopes to major in English and Child Development. After college, she plans to take her leadership and writing skills with her to her career.