AWOLNATION: the Run Tour
Hang on for a minute...we're trying to find some more stories you might like.

There is no equivalent to seeing your favorite band in concert, and no better feeling than knowing all of the words to every song. Upon approaching the rough exterior of Stubb's BBQ, I prepared myself for the show of a lifetime, and being near to the front of the stage, I was not disappointed.
The opening act was the band Irontom, an indie band that AWOLNATION has taken under their wing. The lead singer, Harry, translated the music into immense amounts of energy on stage—constantly dancing, screaming, singing or kicking—he was able to bring the crowd (most of which didn't know the music) into an excited roar. The songs "Your Mother" and "Mind My Halo" gave off the classic punk anger, while other songs like "Goin Slow" show a more emotional, if softer performance. That said, each song is very different from the rest, the music is very excitingly indie punk and doesn't compare with anything I have ever heard before, though if I had to compare it, I would call it the child of the Black Keys and Cheap Trick. You can find and support the band on Twitter, Facebook and Instagram (@Irontomband) and their music is available on Spotify, Soundcloud and iTunes.
Meg Myers followed Irontom, and though I was more familiar with her music, I was much less impressed by the performance. She was never introduced to the audience, and her performance, while striking would be a good word to use, doesn't hold a positive connotation. Myers never spoke to or looked at the crowd and looked very uncomfortable on stage. The act consisted of a few songs where she just sang and danced (although her dancing was stiff, rigid and very uncomfortable to watch), and then followed by a few songs where she attempted to play bass, but didn't appear to know the chords. Towards the end of her show, I actually found myself counting the minutes until she left the stage. Although I would not see her again live, I encourage you to listen to her music because it does have redeeming qualities. She can be found on Twitter (@megmyers), Instagram (@meginthedark), Spotify, Facebook and iTunes.
AWOL released their first album, Megalithic Symphony, in March of 2011 which featured hit songs like "Sail" and "Kill Your Heroes." Their second and most recent album, Run, came out last March and exploded on radio stations with the first single "Hollow Moon (Bad Wolf)." Recently, AWOLNATION has released many tour plans, the next to be with Fall Out Boy starting in February 2016. The show began with the very dramatic "Run," which immediately drove the crowd crazy, setting a standard for the energy before any lyrics were even sung. Aaron Bruno, the lead singer, performed very comfortably on stage, dressed exactly like you would see on his social media profiles—that is to say, street clothes, and engaged with the crowd more than anyone artist I had ever seen. Bruno jumped into the crowd towards the end of the show, but continued to clasp hands with fans and sing near the gate, allowing everyone to touch him while singing "All I Need," a particularly emotional song, and the ever upbeat "KOOKSEVERYWHERE!!!."
While they didn't play my favorite song, "Wake Up," I was entertained the entire time and I couldn't have asked for better concert. Stubb's is an excellent and intimate venue that allows for the artist to truly connect with the fans, and fit right into the spirit of AWOL.

About the Writer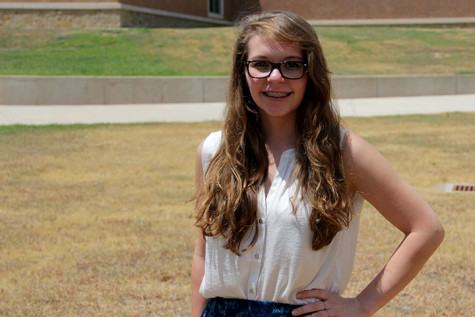 Laura Figi, Web Editor in Chief
Laura Figi (though commonly referred to just as "Figi") is the Web Editor-in-Chief for the 2015-2016 year. She enjoys writing and competing in UIL for the journalism team. Laura is Historian of the French National Honors Society, and a member of French Club and Philosophy Club. Outside of school Laura enjoys playing ukulele, singing, taking pictures of bands and downtown Austin, and playing video games. Laura plans to go to college in-state and study newspaper/broadcast journalism, photography and French.