Life on the Fence
Seniors discuss their final football games and what it means to be on the fence
Hang on for a minute...we're trying to find some more stories you might like.
Friday Night Lights– characterized by the clanging cow bells, banging garbage cans and screaming of adoring high school fans—is, needless to say, something that true Vipers cherish every moment of. As a student on the fence, each second is louder, closer and bigger than in any place of the stands. But being "on the fence" is more than just proximity to the field—it's a whole new way to watch the game.
Since the very first home game in August, seniors have all but been competing for a shot to spend the game on the fence. Now, with the last home game approaching before playoffs, the fence is subject to be more crowded than ever.
"[The football games] have been my favorite part of high school and I think all of the girls and the guys coming together and cheering for each other is really good," senior Hannah Forbes said. "I want to make the most of the games I have left."
In order to gain a spot on the fence, students will show up as early to the game as possible—usually meaning shortly after school ends. Afterwards they set up the garbage cans and play the waiting game in the hours to come until the actual start of the game.
"It definitely brings energy when they're all being loud," senior and running back Travis Brannan said. "It gives us a vibe and momentum to go with us. It helps us play better for sure."
Many of the most notable school traditions take place on the fence. This is where all of the chants are started by chant leaders, where the famous signs, made by the students, are flaunted and school spirit is represented to the other team by just how much noise is made.
"I want them to see that we're having fun," junior and cheerleader Tatum Apel said. "I think that's almost a silent competition—seeing another team look at you and know that you're so good and that it seems so fun on our side of the student section. I think that brings a lot of intimidation and if we look good and happy on the sidelines, then the other team gets a little taken back"
Each year, chant leader position is passed on to a junior to succeed the next year and carry on the tradition. The current chant leaders are seniors Blake Tyndall and Garrett Marumoto and next year's have yet to be chosen. The games may be coming to an end, but each and every person on the fence has a different story to tell.
"Everybody gets together and celebrates one thing and everybody is cheering for one goal," Tyndall said. "It's like your people versus their people especially when it comes to watching the football game. It's like everyone is together and that's fun."

About the Writer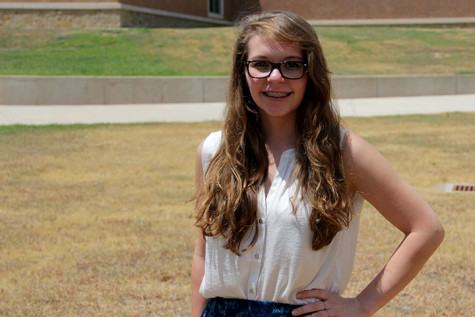 Laura Figi, Web Editor in Chief
Laura Figi (though commonly referred to just as "Figi") is the Web Editor-in-Chief for the 2015-2016 year. She enjoys writing and competing in UIL for the journalism team. Laura is Historian of the French National Honors Society, and a member of French Club and Philosophy Club. Outside of school Laura enjoys playing ukulele, singing, taking pictures of bands and downtown Austin, and playing video games. Laura plans to go to college in-state and study newspaper/broadcast journalism, photography and French.