Eight ways to handle Summer Assignments
1) Take a break
This may initially seem counterproductive, but you need to give yourself time to recover from the stress of the year. Summer assignments can seem overwhelming and sometimes upsetting so take two or three weeks, or until you feel ready, to yourself and relax!
2) Space it out
When you do decide to begin again, don't try to do all of your assignments at once. Not only will forcing it all on yourself simultaneously feel like being in school again, but it may also reduce the quality of your work. Create a schedule and balance your work and personal life. Don't stress—you have time!
3) Concentrate on your work
Work hard when you do work and don't try to multitask. Set aside a time exclusive to doing the work and doing good work to give yourself a head start in studying habits for your next year.
4) Don't procrastinate!
Even though you should take a break, don't wait until the week before school to start. That will not only give you a poor precedent for the next year, but also cause unnecessary stress before the year has even started.
5) Get excited for school to start!
Whether you will be a freshman, sophomore, junior or senior, there is something everyone enjoys about school if not for learning. You may not like school itself, but you will have the chance to see all of your friends that you didn't have the chance to see over the summer, extra-curriculars and opportunities that you might not get while on break.
6) If you can, do assignments on subjects that interest you
Summer work is much easier to withstand if you enjoy it along the way. Choose a book that interests you, write about a topic you're involved in or research a person you would like to know about. You may even end up enjoying your assignment!
7) Do work with friends that are taking the class with you
Doing work with your friends can be risky, but often much more enjoyable than flying solo on the seemingly endless reports and PowerPoints that may bombard your summer. Come up with a plan and have fun with it!
8) Don't overwhelm yourself
If the mere number of assignments has your head spinning, it's likely that the actual classes will only augment your stress level. Don't overload yourself! There's still time to adjust your study habits or even your schedule.
Your summer assignments shouldn't be stressful or painful; they should prepare you for what is yet to come. Enjoy yourself and your summer and even try to enjoy assigned work!
About the Writer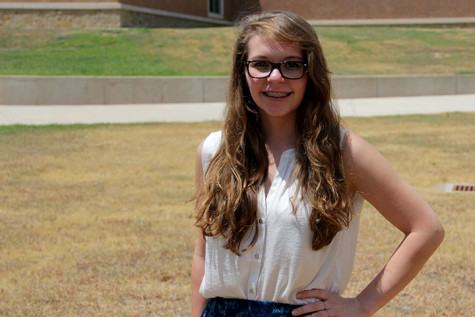 Laura Figi, Web Editor in Chief
Laura Figi (though commonly referred to just as "Figi") is the Web Editor-in-Chief for the 2015-2016 year. She enjoys writing and competing in UIL for the journalism team. Laura is Historian of the French National Honors Society, and a member of French Club and Philosophy Club. Outside of school Laura enjoys playing ukulele, singing, taking pictures of bands and downtown Austin, and playing video games. Laura plans to go to college in-state and study newspaper/broadcast journalism, photography and French.