Vandegrift takes third place Sweepstakes
Hang on for a minute...we're trying to find some more stories you might like.
UIL scores have been released for all competing schools and Vandegrift took third place Sweepstakes and will be given a trophy at the Westwood tournament in a few weeks.
"I think it's great!" the UIL coordinator Galen Goodreau said. "We've gone to two tournaments so far and got third place Sweepstakes in both of them so for this early in the season, I think it puts us in great shape."
The school has earned the prize for its many talented students, such as junior Laura Figi who got second place in Editorial Writing for writing a story advocating to replace the Driver's Ed. Class, whose teacher was retiring after thirty two years with a French course.
"The topic was something really valid to my life," Figi said, "I think that's what really pushed me to go forward."
Another student, senior Abby Knowles, was the only winner for Headline Writing, for writing headlines for topics like schools no longer using anti-bacterial soaps and an eighty nine year old graduate from high school.
"I'm really excited," Knowles said. "I was very surpised when I got fifth place and I think it puts me in a good position in going into the district UIL meet."
There were not just winners in Journalism, but also other students like Jacob Schuller who won fifth place in Accounting by himself and second place in a team with senior Ariel Wood and junior Natalie Gilbert for passing a test.
"This is my first year in Accounting and I was pretty good at it," Schuller said.
There was also a winner who had competed for two events, which was Manasa Dutta. She won third place by herself and second place in a team with junior Jeremy Cummings and senior Evelyn Frederick in Science, and she won first place for Biology.
"I love Bio," Dutta said. "It's my favorite science and we have a really great Bio department at this school."
All of the students that competed have made great personal achievements and contributed to helping Vandegrift take Third Place Sweepstakes. All there is left now is to wait for the trophy to be delivered.
"I saw it," Goodreau, said. "It's really big."
About the Writer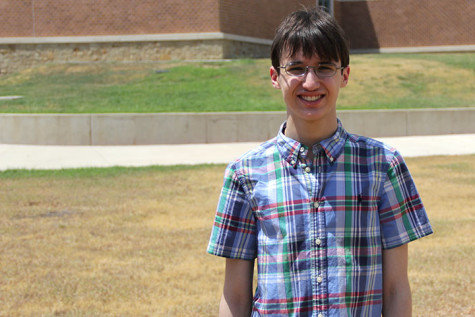 Stephen King, Writer
Stephen King is a senior and a staff writer for the Vandegrift Voice. He is a member of LEGO Club and a member of the Archery Club.