Halloween costume inspiration
Hang on for a minute...we're trying to find some more stories you might like.
With only one day to plan, people are frantically looking for the perfect Halloween costume. Whether you want to dress up by yourself, in a pair with one other person, or in a large group, there are endless possibilities for what to wear. But if you have come to a roadblock, here are several easily-done costume ideas.
Single Costumes:
Cher Horowitz: The typical 90's Valley Girl. This costume is easily done with a plaid miniskirt, a button-down top, a sweater vest and a pair of knee-high socks. Don't forget the finishing touches, such as a thick headband and a typical valley-girl voice.
Nerd: This is one of the simplest looks to perfect. Pair high-water pants, a tucked in button down top and some geeky glasses with slicked-back hair and tall socks to complete this costume. To make the outfit come to life, spit out scientific formulas and "fun facts" all day.
Police Man: This is the perfect outfit for a guy in need of a quick look. A pair of black pants,  a blue collar shirt and aviator sunglasses are the only required pieces. Extra additions include a makeshift badge and a set of handcuffs.
Cruella De Vil: This costume takes a bit more effort. On top of a black sheath dress, a crazy fur coat and a pair of black heels this look requires some crazy hair and makeup. Rings of black eyeliner, vibrant red lips and a mess of black and white hair are needed to complete the ensemble.
Couple Costumes:
Danny and Sandy: This look is a classic that is simple to pull off. The Danny just needs slicked back hair, a pair of black jeans and a black t-shirt. The Sandy look isn't too much harder. She only needs black pants (preferably leather), a black off-the-shoulder top and a pair of red heels with teased hair and red lipstick.
16 Candles: If you love John Hughes movies and sweet couples, you will love this costume idea. The Jake Ryan outfit is fairly easy, all that is needed is a grey long-sleeve top and a pair of jeans. Samantha's ensemble is only slightly more difficult; she just needs to wear a pink, poofy dress and a pretty updo.
Ken and Barbie: This is an easy and fun outfit preferably for blondes or anyone with blonde wigs laying around. The Ken ensemble requires a neon yellow collared shirt and a structured pair of pants. The Barbie's costume entails a hot pink dress, pink shoes and as much excessive pink as possible.
Spiderman and Gwen Stacy: The perfect all- American couple. For a more ambitious Spider-Man, a store bought costume would be a great fit, but in case of a time-crunch, a red sweatshirt with a spider emblem, cobalt blue pants and red socks will work as well. Gwen Stacey just needs to look as classic as possible in a solid sweater, plaid miniskirt and thick headband.
Group Costumes:
Scooby Doo: "The Gang." This costume is great for a group of five. Daphne would need a purple dress, pink tights and a green neck scarf. Velma's look would be easily complete with a orange turtleneck, red miniskirt and a thick pair of glasses. Fred only needs blue pants, a white sweater and an orange  neck scarf. Shaggy is the simplest costume, only requiring brown flare pants and an orange shirt. And finally there is Scooby. For his look you only need an all brown ensemble with dog ears.
Harry Potter and Friends: To dress up for this everyone needs a black robe, a yellow tie and some form of grey sweater over a button-down. The guys of the group need black slacks and the girls need black skirts. If  you want to be specific, one person wear glasses and draw a lightning bolt on your forehead.
Spice Girls: The perfect costume for an all girl's group. Posh Spice will need a simple black or animal print dress. Baby Spice needs a cutesy dress and her hair in pigtails. Ginger Spice wouldn't be complete without a red wig and a brightly-colored jumpsuit. Sporty Spice needs some kind of athletic ensemble; be it sweat pants and a t-shirt or a complete windsuit. And finally, Scary Spice requires the most interesting outfit. A baggy pair of jeans and a crazy-patterned shirt, or ski pants with a tank top finish off the ensemble.
Toy Stories' Army Men: This is a simple and fast outfit for an all-boys group. Everyone just needs to put on green clothing from head to toe; green pants, shirt, shoes and hat. A painted green face and hands will complete the look.
About the Writer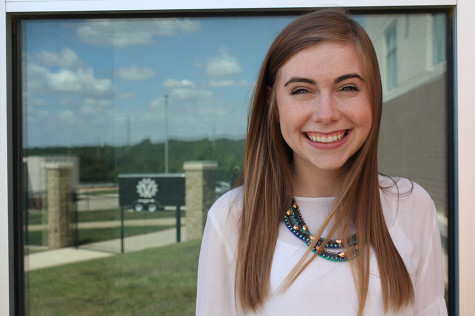 Lauren Conroy, Staff Writer
Lauren Conroy joined the Vandegrift Voice newspaper staff this year. She is the Student Council's executive historian, a C2 platinum member and a member of the National Honor Society. In her free time she enjoys volunteering in the Labor and Delivery department at the local hospital, shopping with her friends and taking her puppy, Murphy on walks. Lauren hopes to attend Wake Forest University and major in business. Eventually she hopes to go to medical school, become a neo-natal surgeon and open her own medical practice.