Quite the A Fishie Anado
Fish store opens in Steiner Ranch
Hang on for a minute...we're trying to find some more stories you might like.
Steiner Ranch welcomed the addition of a fish store, called A Fishie Anado, to its community on August 25. The Store can be found next door to Randall's and Menchie's in the Quinlan Park shopping center on Ranch Road 620. The owner and sole employee of the store is a man named Mark Schindel.
In 2006, Schindel went to school in New York for graphic design. All the while, he worked at a large pet store making house calls for aquarium maintenance. However aside from his experience, he is largely self-taught in ichthyology.
"It's just something that piqued my interest,"Schindel said. "When my dad got me my first little 10-gallon tropical fish tank, I'm sure that he probably took care of them more than I did. It's been a hobby for as far back as I can remember. If you take care of them right, a lot of these fish can live decades."
The store sells all kinds of fish from the simple freshwater Betta to saltwater tropical fish to Crayfish. In addition to selling small fish, Schindel also offers services such as Aquarium installation and maintenance, fish diagnosis and cleaning.
"I didn't expect [business] to explode overnight, but it's steadily increasing." Schindel said.
Schindel uses only live plants in his aquariums and tries to keep the plastic plants he sells to a minimum. Live plants can help keep the water clean, provide a food source for some fish and absorb some of the toxic chemicals that fish expel.
"[Plants] grow, they'll put oxygen in the water and give them a nice place hide." Schindel said.
More information can be found on his website (afishieanado.com), and on his Facebook page. Schindel can be contacted through email and phone, which can all be found on the website.
"This is a good area, people want to stay in the community," Schindel said. "I'm going to try to give them what I think they might want."

About the Writer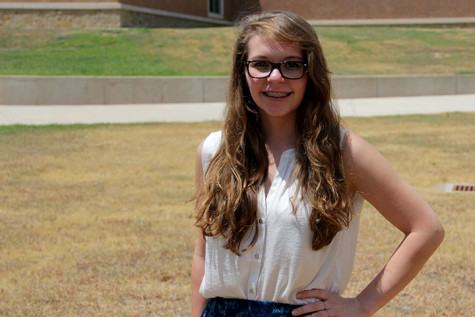 Laura Figi, Web Editor in Chief
Laura Figi (though commonly referred to just as "Figi") is the Web Editor-in-Chief for the 2015-2016 year. She enjoys writing and competing in UIL for the journalism team. Laura is Historian of the French National Honors Society, and a member of French Club and Philosophy Club. Outside of school Laura enjoys playing ukulele, singing, taking pictures of bands and downtown Austin, and playing video games. Laura plans to go to college in-state and study newspaper/broadcast journalism, photography and French.