Austin wins 10 for 10
Students who aren't native to Austin share their thoughts
Hang on for a minute...we're trying to find some more stories you might like.
Watching the scenery change as you move to a new home, changing schools, making new friends and becoming familiar with a new environment has an element of difficulty for everyone. Juniors Alexis Schroeder and Tom Axen can give you a direct interpretation of what it's like to be the "new kid," but they can also tell you the good things about it.
Schroeder and Axen were just two of approximately 110 people to move the Austin area each day. The population for Austin is almost marking around two million people and is currently the fastest growing city in America.
"I love big cities," Axen said. "I've got this. I know I'm going to love Austin."
Schroeder moved to Austin from Haymarket, Virginia and Axen from Rio Rancho, New Mexico over the summer.
"The teaching system is a bit different here, but I think I've gotten the hang of it," Schroeder said. "I've definitely noticed that there are some things that I do need to study."
Although many of the changes involved in moving can be difficult to adjust to, making friends at school has proven to be much easier than either expected. In fact, in comparison to their hometowns, new friends are an abundant source.
"The people are nice and open and easy to talk to," Schroeder said. "I've made a lot more friends here in two weeks than I did in two months in Virginia."
Of course, even with new friends, most people find it important to keep in close contact with friends from home. Talking on the phone, texting, Skyping, social media and even playing video games together are popular ways that people keep in contact.
"I'm not big on talking on the phone though." Schroeder said. "I prefer having something to do to talk about. I just game with my friends."
Austin seems to have something for everyone and it is attracting people as such. Even people adjusting Austin's surroundings have a tendency to call the city home very quickly.
"Austin wins 10 for 10," Axen said. "It's been pretty great."

About the Writer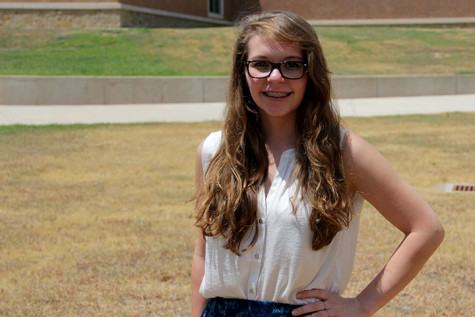 Laura Figi, Web Editor in Chief
Laura Figi (though commonly referred to just as "Figi") is the Web Editor-in-Chief for the 2015-2016 year. She enjoys writing and competing in UIL for the journalism team. Laura is Historian of the French National Honors Society, and a member of French Club and Philosophy Club. Outside of school Laura enjoys playing ukulele, singing, taking pictures of bands and downtown Austin, and playing video games. Laura plans to go to college in-state and study newspaper/broadcast journalism, photography and French.