Student attends Texas Musical Theatre Workshop over the summer
This summer junior Jacqueline Kotlarz attended the Texas Musical Theatre Workshop, a summer musical theatre intensive for high school students taught by Broadway and Hollywood professionals.
"This experience was absolutely amazing," Kotlarz said. "I made friendships and connections that will last," Kotlarz said.
Kotlarz heard about TXMTW from senior Martha Ruby Clark, who had attended it the week before. The workshop was created to prepare high school students for college auditions, the college theatre and professional theatre.
"I decided to participate because I knew I would learn a lot, and because I love theatre so much," Kotlarz said.
Through the TXMTW Kotlarz got the chance to live like a college student for three weeks, work with Broadway and Hollywood professionals and meet other high school students from around the state.
"My favorite part was getting to work with all of the professionals," Kotlarz said. "I got to work personally with Laura Osnes and Andy Einhorn."
Kotlarz has landed the role of Narrator 1 in the fall play The Greek Mythology Olympiaganza. She is also a member of the Drama Club and the varsity theatre class.
"This experience has helped me immensely in VHS theatre," Kotlarz said. "I learned professional techniques that has improved my skills as an actress."
About the Writer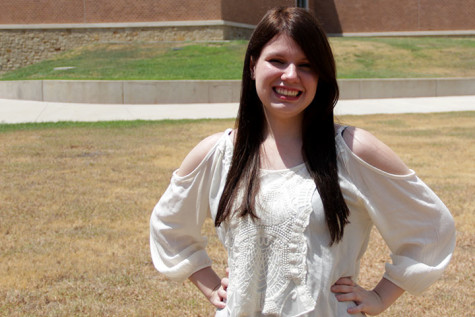 Alaina Galasso, Editor in Chief
Alaina Galasso is a senior at Vandegrift and this is her third year on the newspaper staff. She competes in journalism for Academic UIL and was previously sixth in district for Feature Writing, fourth in district for News Writing, first in district and region for Editorial Writing and second in state for Editorial Writing. She also works as a professional theatre technician outside of school and is an active member of the school's theatre department. She is currently the department's head stage manager but has participated in lighting, run crew and sound since she was a freshman. For her work in theatre she is a 9 star International Thespian and current secretary of Thespian Troupe 7613. She has also been involved in Student Council, the HCEF Inventeam, National Honor Society, Vision Dance Company, AVID and Latin Club throughout high school. She hopes to attend a top university up north and plans on majoring in Theatre Design, Production, and Management with a minor in Creative Writing.