FFA Banquet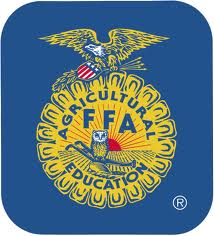 The awards ceremony for Future Farmers of America was held on May 21, at RiverPlace Country Club. All FFA members, their parents, and special guests attended.
"It's an amazing organization," sophomore Hannah Olsen said.
Awards were given out to outstanding members. Some of these include Proficiency Awards, The Chapter Degree, which was given to top members, and the Star Chapter, given to members who have mastered production, finance, management and research for FFA.
Other awards include the Greenhand, given to first time members, the Star Greenhand, which is given to freshman or first time members who excel their first year, and CDE, or Career Development Event, was awarded to those who prove to be able to take their skills to job level.
"[FFA] looks good on college applications [and] I want to be a vet and raise an animal," freshman Julia Tate said.
Achievements to be celebrated at the event included placing third at the San Antonio Ag Mech, students who were awarded blue ribbons for their projects, student animal projects, CDE Accomplishments, as well as Alumni Scholarships, for the first time in the school's history. The end of the night saw the installment of the new FFA officers for the 2014-2015 school year.
"[FFA] allows you to make a ton of friends and gives you lots of leadership skills," Olsen said.