Teacher Spotlight: Mrs. Simala
An interview with special education teacher Mrs. Simala about what she does in her free time and what made her want to teach special education.
1. What is something that people may not know about you?
My husband and I have been married 37 years and have one child.  She is 29, lives with us and works full time at a credit union (she is our personal banker)We have two dogs, multipoos named Herbie and Willie and they are our entertainment.  I like to read, watch TV and go to the movies with my family.  On most Saturdays I enjoy working in the Ministry talking to people about a hopeful future.
2. What made you want to teach Special Education?
Growing up we had a family close to ours whose daughter had Down's Syndrome.  She was always treated like all the rest of us and I really appreciated that. She was funny, loving and stubborn.   Knowing her made me want to work with all kinds of children because we are all different in one way or another.
3. What is your favorite part about being a teacher at Vandegrift?
I work as an assistant for our Special Education Dept. Head so I get to know a lot of students.  I get to work with many positive people around my office and that makes working here wonderful.
4. What should students expect for the year?/what is your classroom environment like?
If they come by my office they can expect a smiling, happy to see them person.
5. What is one fun fact about yourself?
I love to travel.  This summer my family will be taking a road trip to Florida to visit my family.  My daughter and I will be staying for two nights at Disney World too. I've been to England and the Czech Republic and hope to go to Ireland one day.
About the Writer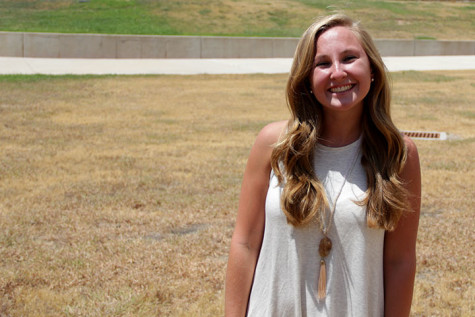 Kate Murphy, Newspaper President
Kate Murphy is a senior, she has been a writer of the Vandegrift Voice for three years. She is the current President for the Newspaper where she plans events and helps encourage her fellow students. Kate enjoys writing about sports and lifestyle articles, she enjoys writing about her fellow classmates and getting to know them. Go Vipers!