Teacher Spotlight: Mrs. Robinett
1. Please write a little bit about your life outside of school:
When I'm not sitting in my favorite chair with my nose stuck in a book, you can find me on the golf course with my husband.  Although, most weekends of late, I find myself flying around the country and sometimes the world! Currently, we have only one pet in the household, my precocious Maine Coon, Sam, but will be adding an additional "fur baby" later this year.
 2. What made you want to teach English?
 I've always had a love of literature and knew I wanted to teach, but didn't realize English was my calling until my third year in college.  My advisor took one look at my grades and recommended I switch out of Physics and get into English!  I followed his advice and have never regretted it.
3. What is your favorite part about being a teacher at Vandegrift?
 I love interacting with the students here.  You are all  involved in so many interesting activities and enrich the community with your efforts.
4. What should students expect for the year?
 Well, I hope students find my classroom challenging yet entertaining.  Although the curriculum can be difficult, I'd like to think that students feel as though I'm providing the support and building the confidence necessary to be successful.
5. What is one fun fact about yourself? 
This June I will be getting an English Springer Spaniel puppy and plan to have her compete in conformation shows. If you think the moms in Toddlers and Tiaras are crazy, you've never been behind the scenes at a dog show!
About the Writer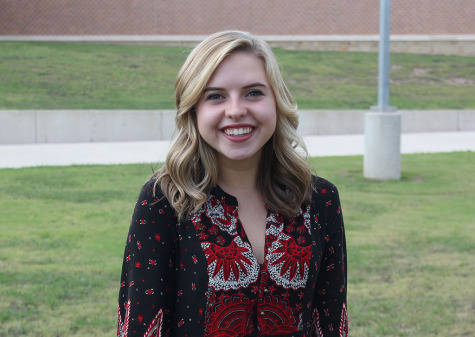 Kelly Honts, Web Editor
Kelly Honts has been a part of the newspaper staff since her sophomore year in 2012. She is the Vice President of Vandegrift's choir program and very involved with both Student Council and NHS. In her free time Kelly has her very own lifestyle blog called The Pretty Peony where she posts about both food and fashion. Kelly hopes to attend the University of Santa Clara and major in marketing so she can eventually go into fashion merchandise. In Kelly's free time she enjoys hanging out with friends, spending time outside, and reading!