Teacher Spotlight: Doc Matthews
Hang on for a minute...we're trying to find some more stories you might like.
An interview with athletic trainer Doc Matthews about teaching sports medicine and what he does during his free time.
What are some things that you enjoy during your free time?
As any athletic trainer would admit, the school year is a hectic one. Unlike coaches, Athletic Trainers are in season all year round and do not have the luxury of an off-season to wind down. When I do manage to escape the athletic training room I escape to a golf course. I played golf in high school and was given a 4 year scholarship to a small private university in Iowa. I only attended the university one year but got a taste of what it was like being a college athlete. When I am not at VHS I prefer to spend my days outside or being active. Golf and fishing are the two guilty pleasures I wish I had more time for. I find it very peaceful to be out on the golf course playing a slow, but steady round of golf. On occasions, the student athletic trainers and I will come up to the school on a Saturday to play ultimate frisbee as a group. This allows us to create relationships outside of the training room. I find that is also helps our dynamics in and around the training room. In most cases I am very laid-back and enjoy a relaxed atmosphere at home watching "The Office".
What made you want to teach Sports Medicine?
Being both a nationally certified and state licensed Athletic Trainer, teaching sports medicine comes easily. All the topics Linda "Doc B" Bowman and I cover in sports medicine are practical and applicable to our high school student athletic trainers. I enjoy teaching the students because the majority of our students that are accepted in the program have more of an interest in the medical field or enjoy learning most of the topics we cover. Linda "Doc B" Bowman does a great job with the students and definitely keeps me on top of our next assignment with regards to the class. I could not teach the students effectively if it wasn't for her.
Most of the students are receptive and willing to learn, making teaching easy and enjoyable. Being an athletic trainer is the most rewarding job in the world. You really get a sense of accomplishment when you have an athlete come off the field and tell you "thanks for working me so I was able to play the sport that I love at my full potential." There is no other joy in the world than working with the responsible, passionate athlete.
What is your favorite part about being a teacher at Vandegrift?
My favorite part about being an Athletic Trainer at Vandegrift High School is the faculty and students. The faculty and administration I have the pleasure of working alongside make my life easy. The faculty is in constant communication with me and everyone does a great job keeping me informed with what is going on around campus and what I need to do to succeed at my job. The student and I share a lot of laughs in and out of the training room. It was a constant saying in graduate school while at SFA (Axe 'Em Jacks!) that in order to be an Athletic Trainer and be successful, you must have a sense of humor coated in sarcasm. I think it is true and the students know that laughter is appreciated in the athletic training room. There is never a dull moment in the training with our student athletic trainers and athletes.
What is your classroom environment like?
The Athletic Training room is busy throughout the day with athletics in every period. Between morning treatments and class time, students can expect to be productive every day to prepare for afternoon practices and for the next morning. With the conclusion of football season, students can expect to have more opportunity to learn the information relevant to sports medicine.  
What is one fun fact about yourself? (a hidden talent, special interest, something super cool about you)
A fun fact about me I have become obsessed with kayaks and the idea of using them to go fishing. I was born and raised about an hour from South Padre Island and was able to fish on a regular basis. I thoroughly enjoy being on the water but finding just the right kayak to fit my needs has been a task. 

About the Writer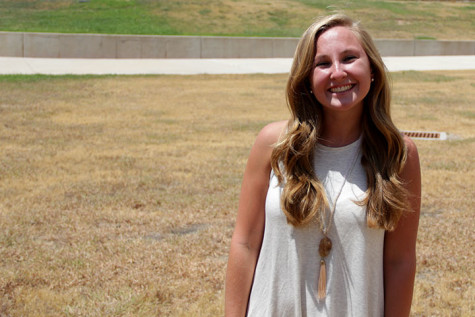 Kate Murphy, Newspaper President
Kate Murphy is a senior, she has been a writer of the Vandegrift Voice for three years. She is the current President for the Newspaper where she plans events and helps encourage her fellow students. Kate enjoys writing about sports and lifestyle articles, she enjoys writing about her fellow classmates and getting to know them. Go Vipers!