Teacher Spotlight: Mrs. Chockla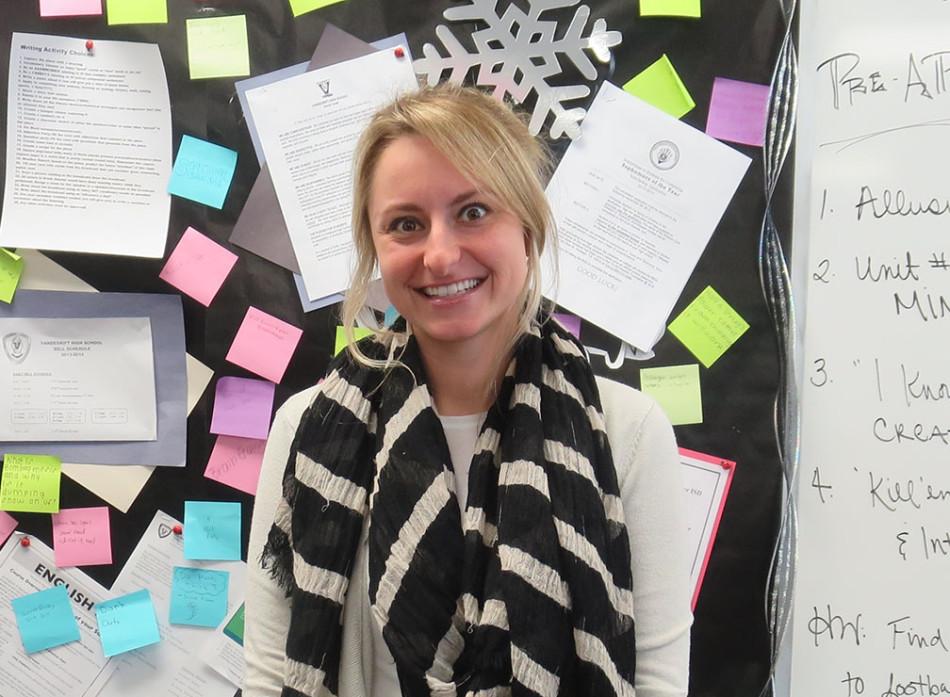 Alaina Galasso, Opinions Editor and Social Media Manager
February 17, 2014
What is your life like outside of school?
I am an Ohio native and will always be filled with Midwest pride, but have also lived on the East Coast, and now, obviously Texas! Austin is without a doubt one of my favorite places in the world, and my husband, Aaron, and I love being out in the city and on the lake here. Aaron and I have been married for almost two years, and we rescued a puppy from Puerto Rico last summer. His name is Auggie, and he's the sweetest thing. Taking Auggie for long walks at Zilker is the best, but I also love skiing (water and snow!), playing tennis, reading and shopping.
What made you want to teach English?
Language, literature and culture have fascinated me from the very beginning of my own education. I also love to write, and even considered becoming a journalist! When I thought hard about my passions though, I knew I  needed to work around lots of dynamic people, be constantly learning, and have the chance to help and inspire others.
What is your favorite part about being a teacher at Vandegrift?
Vandegrift is such an exciting place to be because the energy in our building is so incredible. Students, teachers and the administration never turn down challenges, and we all work to reach our best and make the most of every moment we're all together. Both in and out of the classroom, everyone who is a part of Vandegrift has so much to offer and share, and I love getting to be a part of it every day.
What should your students expect for the year and what is your classroom environment like?
My students should expect to explore literature from lots of corners of the world in pursuit of better understanding the human experience. Our studies help us to become better, more clear and more thoughtful communicators through practice in understanding organization, tone and author purpose and we do lots of different kinds of writing all the time. My classroom is a place to learn, ask questions, discover and explore – sometimes it can be loud with great table discussions happening all over, sometimes it's bustling with projects in the making, sometimes it can be dead quiet and totally focused! My favorite times are when we're all together in a good discussion or Socratic seminar.
What is one fun fact about yourself?
I love playing funny jokes on my close friends and family… April Fool's Day is my favorite. Last year, I glued eyes to everything in the refrigerator the night before April Fool's morning – my husband was shocked to see all of our food- including all the eggs in the carton staring at him as he made his omelet!
About the Writer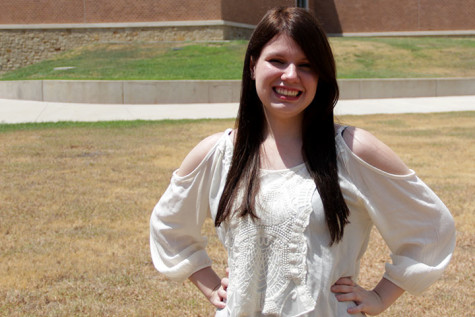 Alaina Galasso, Editor in Chief
Alaina Galasso is a senior at Vandegrift and this is her third year on the newspaper staff. She competes in journalism for Academic UIL and was previously sixth in district for Feature Writing, fourth in district for News Writing, first in district and region for Editorial Writing and second in state for Editorial Writing. She also works as a professional theatre technician outside of school and is an active member of the school's theatre department. She is currently the department's head stage manager but has participated in lighting, run crew and sound since she was a freshman. For her work in theatre she is a 9 star International Thespian and current secretary of Thespian Troupe 7613. She has also been involved in Student Council, the HCEF Inventeam, National Honor Society, Vision Dance Company, AVID and Latin Club throughout high school. She hopes to attend a top university up north and plans on majoring in Theatre Design, Production, and Management with a minor in Creative Writing.