FEATURE: DECA member incorporates small business into competition project
A whirlwind of emotions flood students' brains as these Distributive Education Clubs of America (DECA) competitors travel for their yearly competition. The road ahead includes adventure and entertainment, as well as marking a turning point for the team's year of hard work and dedication.
This school year, junior Rasika Patel, DECA director of marketing, worked on an individual written project for the International Career Development Conference. In her paper, she was able to incorporate the small business she is employed at- The Cultured Carrot- And, investigate different aspects of the business itself. Last year, Patel advanced to state for the solo written startup business plan. This competition season, she made it to internationals while running as state officer.
"I love how I get to be involved in something so small yet so big and especially at such a young age," Patel said. "I also love DECA because we're a tight knit nationwide community. It's just a plus that we get to travel to really cool places."
As her choice of business study, Patel decided to enter in the business admissions competition where she wrote a 22 page paper along with a fifteen-minute presentation. The Cultured Carrot was the small business she researched and explored in order to seek the problems they encounter.
"I initiated a campaign over the span of eight or nine months," Patel said. "I did this through social media and promoting physically at the market with posters and banners. At the end, I summarized everything I did to make the Cultured Carrot better."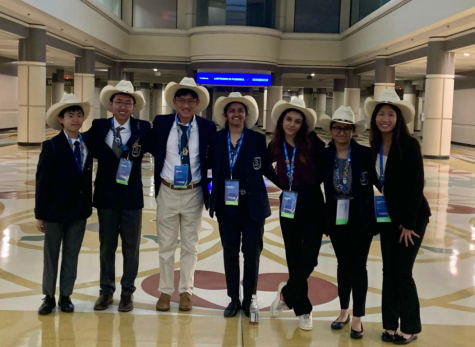 In the process of challenging the boundaries of healthy food dressings, employees meticulously crack down on producing a nutritional, but appealing mix of fermented vegetable dressing that improves gut health.
"I do social media marketing for them, I make the dressings in the kitchen and I sell the products," Patel said, "They love me and I love working for them. I like that I got to base my DECA project off of Cultured Carrot because it's my job, but I also have a lot of fun with it."
Each Saturday, Patel and her co-workers at Cultured Carrot set up a stand at the Mueller community farmers market.
"I basically have to haul all of the coolers, bottles, and tents in a wheelbarrow," Patel said. "I have to take about five trips in order to set up the stand, and most of the time it feels like it is 200 degrees outside. But, the best memories come when a bunch of people are conversating and having fun, there is live music and everyone is happy."
The individual written project was completely self-paced and managed, which allowed for Patel to grow in different areas throughout the process.
"I gained leadership skills and project management," Patel said. "I did all of the work independently, so that strengthened my skills with getting all of the materials, preparing for the presentation and writing my paper."
Written competition preparation lasted between September and April, giving Patel most of the school year to complete.
"During competitions, I get super nervous," Patel said. "But I know that there's nothing I can do to prepare at that point and that I did everything I could no matter the outcome."
Along with competitions, Patel plans to play a larger role in the club itself by running for next year's president.
"My number one goal for DECA is increasing general membership," Patel said. "I would incorporate this with more workshops to help guide first and second year students through their events and projects to have that support. I also think it is important that we improve communication across all platforms."