Battle of the Bots: Valor robotics attend Waco districts
On Mar. 2, one of the many Viper robotics teams traveled to Waco to compete in the annual FIRST Texas Districts. This marks the first of many competitions for the team, who hopes to have the opportunity to compete at World Championships later this year. 
"This was our first time competing this year and it was kind of to unveil the robot to everyone." Senior Sahir Ahmed said. 
The students arrived in Waco on Thursday evening. The students who concentrate in manufacturing were hard at work preparing their bot for the big bout. During these competitions, students need to both build the robots and program them to be able to function; combining many elements of the STEM fields.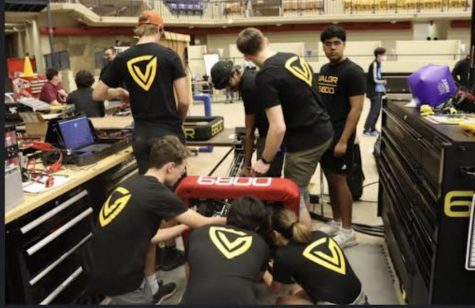 "We arrived in Waco and we had people immediately working to build the robot and get it ready for rounds of competition that started Friday and Saturday." Senior Amaan Syed said. "In total, we ended up competing in around 12 rounds of competition with our robot that weekend and only lost two."
There were many teams in attendance at Waco, including one who traveled from New Mexico to compete. At this year's competition, there were teams from all over Texas, including Dallas, Lubbock, Houston, and many other Austin teams, like local rival Cedar Park. 
"There was a really diverse group of teams," Syed said. "Some teams weren't even affiliated with schools, those are community teams. One team was even from The Girl Scouts."
6800 Valor is an FRC team, meaning that they compete in the FIRST Robotics Competition. On campus, there are many other robotics teams, including Hydra and Snakebyte, however, these teams compete in FTC robotics. According to FIRST, the difference between the two classifications is that FTC focuses more on the technology aspect of robotics, while FRC focuses on the assembly of large robots from a kit of standardized materials.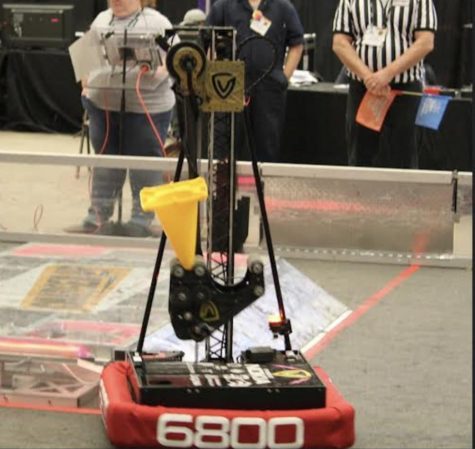 "I enjoy whenever we go and do things as a team," Ahmed said. "We celebrate our wins together and try to improve for next time, it's a really great dynamic." 
Within the robotics program, there are many different subjects that students can specialize in. Some students manage the software and programming of the robot, similar to Syed, while others, like Ahmed, focus on the manufacturing and assembling of the robot, making sure all of the parts function together properly. 
"I'm on the manufacturing team." Ahmed said. "What happens is you get the design and you have to work together to build the robot in the shop."
The Valor ViperBots work all year in hopes of being able to attend Worlds, where hundreds of students and organizations across the world meet to compete for gold and share their passion for robotics. This year, Worlds will be held in Houston. 
"After every competition, we kind of re-evaluate and see where we are at." Ahmed said. "Obviously, our main goal is winning and cooperating with other teams to do so."
The Worlds competition showcases the greatest feats in technology, with teams coming from places like Israel, Japan, and Turkey to meet in Texas for the rounds of robots and rivalry. Before that, however, ViperBot students will need to complete a series of competitions to prove that they are ready for that accomplishment. 
"We have another districts in San Antonio over spring break and then we compete in our states. If we do well there, we will rack up enough points to be able to go to Worlds." Syed said. 
Despite the tough road ahead for the Valor Vipers, they are head strong and ready to showcase what they have through competition this spring. 
"I love robotics because we all have such a passion and drive for robotics and we all want to improve and get better together. Which is really special."