Sophomore organizes Roe v. Wade walkout
At precisely 1 p.m. yesterday, students throughout campus in bright pink t-shirts and armed with cardboard signs walked out of their classrooms without a word. For 49 minutes– one minute for each year of Roe v. Wade– they united to make their voices heard as one.
Following the Supreme Court leak two weeks ago, students nationwide have participated in school walkouts. To supplement the protests at the Capitol building downtown, sophomore Anyssa Perry organized a VHS walkout after becoming involved in the discourse.
"It's everything about me," Perry said. "Not only as a woman, but as a black person as well. It's very meaningful to me."
Perry organized the walkout according to the statewide guidelines set by the Coalition, a group that supports student protests. The walkout was initially intended to be last Thursday, but she was encouraged to reschedule to avoid AP exams.
"Student council was very excited to hear that I wanted to do this walkout, and Mr. Little also encouraged it," Perry said. "I was really nervous, because I've never done something this big before. I also didn't know how big it was getting. I thought like three people were going to show up."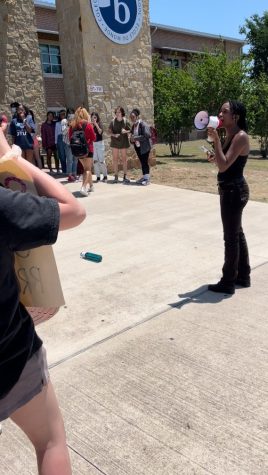 For students unable to vote, the walkout was intended to provide an outlet for their feelings on Roe v. Wade's potential overturning. 
"I really wanted people to be able to speak," Perry said. "I know since we're high schoolers, a lot of people have never been to a protest, or they were scared to, and I wanted to make it a peaceful and safe environment for people to share their own experiences."
The protest began at the front of campus, where Perry gave a speech and provided handmade signs for those who hadn't brought their own. The march proceeded to the cafeteria and down to the main road, where students were asked to share their experiences with sexism.
"It felt like I had a personal connection with everybody," Perry said. "To be able to turn around and see how many people were following me was pretty insane."
What began as a response to a national issue evolved into an open dialogue about discrimination at school, and because an outlet for students to share their exposure to sexism.
"I think it's a perfect conversation to have," Perry said. "Especially in this environment, because I feel like this all leads into so many other issues. I'm glad people were able to use the protest to bring attention to their personal experiences."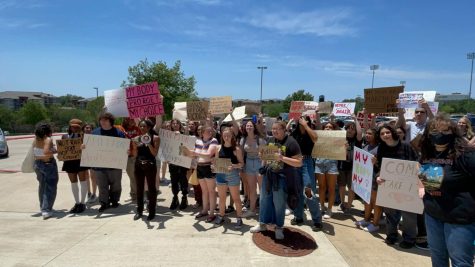 After the success of yesterday's walkout, Perry says that she is open to conducting similar protests in the future.
"I think protests are awesome," Perry said. "I think that they really do get the word out and start conversations. So many people have come up to me already. Bringing it into a classroom talking about it is pretty important."
Especially in the restrictive climate of Texas's reproductive rights legislation, it's easy for young people to feel that they have to keep their emotions to themselves. But yesterday, the walkout showed they would be listened to.
"If I could talk to the Supreme Court, I would say, get another lady in there," Perry said. "Get me in there. I know what I would say to them. Think about the people."