The best 'mom'-ents : Teachers celebrate Mother's Day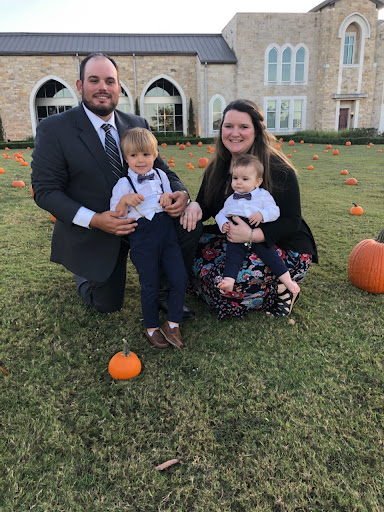 She had watched her child grow throughout the years and wondered about how impossible it seemed that she brought that miracle into the world. The many years ahead of them seemed to shine with potential, and she wanted more than anything to be there for her child in the good times and the bad. 
On May 8 of this year, families will celebrate Mother's Day around the world in admiration of mothers and mother-like figures who have loved them throughout their years. Even at school, many teachers are mothers who understand what it's like to have children coming to school each day.
"To me, being a mom means being there for my kids, teaching them life lessons and making sure they thrive," biology teacher Marion Gehrmann said. "As the kids get older my role of disciplinarian switches to that of being a friend. I want to create a safe place for them so once they move out (my senior is about to move to upstate NY). They know I still have their back, and they always have a place to come home to if needed." 
From learning many things about raising kids as a parent, Advanced Pre-Calculus and On-Level Geometry teacher, Sarah Clark, said she has been able to take her experiences and apply them to being a teacher. Clark, although a relatively new parent with kids aged two and four, has been able to grow through the experience of raising children.
"I thought I had patience from being a teacher, but I have a whole new level of patience with the kiddos," Clark said. "I feel like I have a better lens from a parent's point of view. My kids aren't quite at the school age yet, but I can already see through the eyes of a parent as my students are being seen by their parents."
Gehrmann said she can also relate to the feeling of seeing kids through a parental point of view. Seeing her kids battle through the workload of school and their struggles has helped her build empathy and character.
"Seeing my own kids sometimes struggle with workloads, anxiety or other challenges makes me more empathetic towards my students," Gehrmann said. "Being a mom makes me more compassionate, understanding and definitely more patient."
Looking back on her own experiences being a mother, Clark said she also now appreciates everything her mom did for her. She said the most impactful part of her growing up was the fact that her mother was always there to support her in everything she did.
"From being at every single softball game that I ever played in, to going to my band competitions, to taking me to a practice that was over an hour and a half away from home, my mom was always there," Clark said. "At one point she had to work two jobs to help pay for my extracurriculars. I think it's just the sacrifices she made for me so that I could be where I am today that I am most grateful for from my mom."
Aside from being supportive, Gehrmann appreciated being able to have her mother's unconditional love. Looking forward to her kids, Gehrmann said she hopes to apply this to her own life as she supports and loves her kids too.
"My mom loved me unconditionally," Gehrmann said. "She always encouraged me to follow my dreams even when that meant leaving my home country to move to another continent. I hope to do the same for my kids. I want them to feel supported throughout their lives whatever path they may choose." 
When becoming parents, both Gehrmann and Clark looked at their mothers as examples. In spite of some challenges along the way, Clark had long anticipated becoming a mother. 
"Not many people know this, but it was actually really hard for me to conceive with our first child and so the moment I found out I was pregnant, it was just a blessing," Clark said. "It took a really long time and that was probably the first moment that hit me that I'm going to be a mom."
People say that the greatest gift someone can get is a child. But Clark says it is important to recognize and appreciate the "gifts" that your mother does for you. 
"Appreciate your mom; go the extra mile," Clark said. "Go out of your way to do the dishes or do the laundry or just even write a note, and I think that would go a really long way."
Additionally, Gehrmann said that the best thing you can do for your mom is do something with her. Gehrmann said that children often stop spending time with their parents when they grow up, and as a mother, she appreciates any time she gets.
"The best gift you can give to your mom on Mother's Day is your time," Gehrmann said. "Rather than buying her an expensive gift, spend some time with her watching her favorite movie, or do an activity with her that she likes."
Looking forward to many happy moments with her children, Clark often ponders the example she wishes to set for her children. In a fast-changing world, Clark believes that there is a lot of responsibility in raising two children. 
"I feel like I'm shaping the world for my two boys, and there's a lot of responsibility in that," Clark said. "I'm making sure that I'm doing the best I can. I can make them resilient so, when I'm not around, I know they're going to be successful."