A colorful 'Holi'-day
A big crowd of people danced to the Bollywood music blasting through the speakers as shouts of excitement filled the air. The vast crowd was a sight to behold as clouds of vibrant colors and ice cold water flew through the spring sky.
Holi is a holiday celebrated among Indians around the world as a celebration marking the start of spring. Some common ways of celebrating include shooting colored powder into the sky and shooting others with water guns. Holi is typically spent with family and friends and accompanied with mouth watering Indian snacks.
"Holi is like a new beginning," junior Akshay Boddapu said. "It's a new start with a new mindset. And with it being the start of spring, it's more of a celebration of happiness and joy."
Aside from Holi's symbolic meaning, those that have lived in the U.S. their entire lives find the celebration to be an important part of connecting with Indian customs even from halfway around the world.
"It's a great way to get involved and celebrate an important part of my culture's history," sophomore Rasika Patel said. "It's really cool to engage with my Hindu heritage while I am a long distance away from India."
This special holiday includes colorful celebrations and festive foods. Freshman Dini Moorthy said she looks forward to this every year and anticipates this day spent with her close family and friends.
"In mid-March, we make sweet food, play loud music and throw Holi powder everywhere," Moorthy said. "From putting it on people's faces, to spraying everyone with water using water guns, it's a mess, but it's super fun."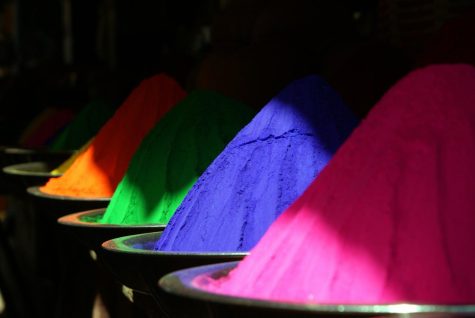 The different aspects in the Holi celebration work to make it extremely memorable for many. Boddapu said that one of his favorite memories was one during Holi.
"My favorite memory was on Holi about three years ago," Boddapu said. "My friends and family went to a temple called the Sri Shirdi Sai Baba temple. We pestered people with colored powders, got everyone's clothes dirty and had a big laugh."
Different families have different ways of celebrating, and yet, some aspects remain the same. Along with the colors and traditional food, most families visit a temple close to the celebration.
"My family usually attends events at our local temple or park hosted by other Indian Americans," Patel said. "We usually eat traditional Indian food like rice, dal, samosas, jalebi and other North Indian snacks."
Through Holi, Indian-Americans bring in diverse elements of their culture into American society. Yet many who celebrate the holiday, including Boddapu, have said the diversity Holi brings can be accompanied with criticism or misunderstandings.
"I don't have any specific experiences facing criticism that I can think of, but people are usually confused as to why we celebrate Holi," Boddapu said. "Obviously, some of our traditions may have connections to our religion and stuff that they don't know a lot about, so they might be confused since our traditions are quite different from theirs."
Even though people may be confused about this specific holiday, most Indians believe that they are able to safely observe their culture. Patel said she has made many great memories while enjoying Holi, especially one of her most recent celebrations.
"My favorite memory from Holi was in 2019," Patel said. "My cousin and I were running around and throwing colored powder at each other and the rest of our family. We got carried away and didn't realize that the swimming pool turned pink. I pushed her in and she dragged me in as well. When we got out, we both sat next to each other, covered in pink dye and shivering, with towels wrapped around us eating hot samosas. It was one of the many memories of this celebration that I'll never forget."