Gold seal or no seal: Chosen VASE competitors advance to the state level
Visual Art Scholastic Event (VASE) holds an art competition each year, inviting any eligible Texas high school students grades 9-12, to compete. This year, students Nadia Verlinsky (division 1), Paige Radloff (division 1), Abby Hefele (division 2), Yejoo Kim (division 3), Rishika Mudundi (division 3), Grace Park (division 4) and Joy King (division 4) are qualifiers for state. 
First done at the regional level, student artwork is judged based on levels of skill and creativity. If deemed proficient, their piece will move on to the next level: state. On April 30 in San Marcos, TX,  their piece will undergo another round of judging, earning them a chance to win a gold seal, the highest award. 
"A lot of times students will try to make a piece that they think is going to please a judge; but if it isn't personal to them, then it doesn't come across well," visual art teacher Philip Deardorff said. "So, I just try to get students to create art that they love and make, that they're interested in and invested in."
The judges reviewing student art submissions are artists themselves, giving participants the opportunity to hear a professional perspective outside of the classroom.
"Even if you think your art is terrible, someone out there is going to take something away from it because no judge is ever going to just say, 'Oh, this is terrible,'" sophomore Paige Radloff said. "They're going to leave you with stuff you can improve on and they're going to say where your strengths are…it's good to ground yourself and assess where you are as an artist."
From scratchboard to sculpture, graphite to acrylic, any medium goes for the VASE competition.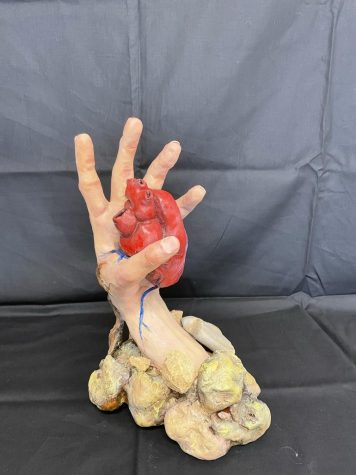 Senior Joy King was introduced to Sculpey (polymer clay) and metal armature years prior in art classes which helped her sculpture: a hand holding a heart, "come to life."
"I had thought about my fears and how really, there's a bunch of sayings, like 'hold your life in your hand,"' King said. "Why not take that literally?…I tend to go a little extreme with my thoughts, so I wanted to portray that in my piece as well."
Grace Park often utilizes drawing from photographic reference to capture the exact concept and skill combo she's trying to convey, making her acrylic painting of self image and self love more realistic.
"It kind've turned from an objective exercise in visual observation to kind've acknowledgement of realities that cannot be represented by what somebody sees or what can be photographed," Park said.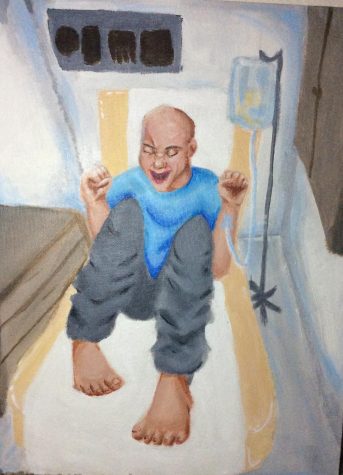 Though not advancing to the state level, junior Aine Connors' first year competing in a high school level of VASE was worthwhile, allowing her to showcase her acrylic painting. Hitting close to home, Connors lays out the scene in which she witnessed her sister in the hospital after she had just been diagnosed with Type 1 diabetes.
"I remember sitting there in the emergency room and watching her freak out, thinking 'Wow, she looks like a baby,'" Connors said. "… I started with the idea and working on the piece around my sister's diaversary, which is basically the day she got diagnosed."
Usually, students undergo a one-on-one interview with a judge; but with COVID-19, the VASE event was moved to virtual where students submitted needed information online.
Doubling the challenge, sophomore Paige Radloff submitted two pieces for the competition, both advancing to the state level. "Curious Future," a portrait of her brother when he was a small child holding Earth in his hands and "Chomp," a realistic portrait of a crocodile on scratchboard.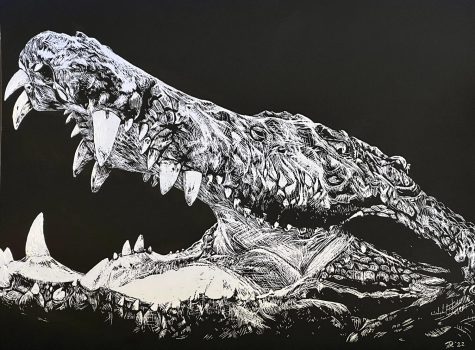 "I have a personal meaning [for 'Curious Future']; you can think about both the future is in the hands of the youth and also kind of like global warming because the Earth is literally melting," Radloff said.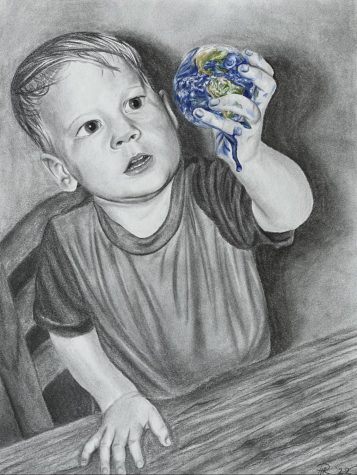 Student pieces can stem from just about anytime, ranging from a year or so ago to just a month prior to the competition. Despite this, the stubborn battle between the artist, artwork and competition is a harsh deadline.
"I felt like it taught me a lot about grinding through and getting it done because what people don't realize is, whenever you're drawing or painting something, you get bored of it and a lot of the time, you just leave things unfinished because you lose the passion for it," Radloff said. "But, on these…I have to finish this out."