Pufftastical play
Theater students talk the play, Harry Potter, and more
On October 12, the theater had their dress rehearsal from 4-9:30 pm to prepare for their Puffs play on October 16 at 2pm and 7pm. Tickets are available at the door for five dollars for students and ten dollars for adults. 
Based on Harry Potter, the show Puffs is told in the perspective of the Hufflepuffs through the seven years.
"I really like theater, I think it's really cool and just like the whole thing of putting together a show that's completely led by people in your school I think it's really interesting," freshman and cast member, Maile Boswell said.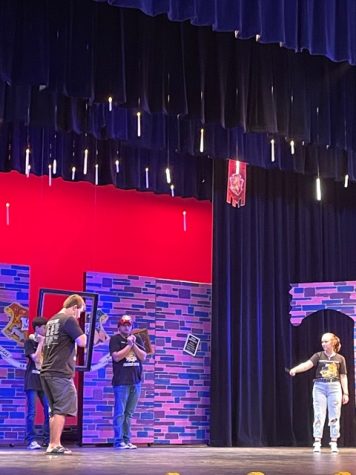 Senior Brooke Dickerson, the head stage manager, was eager to be a part of the crew, having not had a full show since before COVID. Dickerson runs the show: she calls every sound cue, evey flyro cue, runs the lights, calls lights, and calls deck crew.
"The most stressful part is that there's about a thousand sound cues in the show and over 300 light cues which is a record for the school," Dickerson said. "There's a lot going on, and it's a constant 'go go go' type of show,"                                                                                  
What led senior Cameron Smoot to join the cast as Liian is just how fun it is and the experience she will get.
"I was just thinking when I saw that it was going to be an improv show that it can definitely help me with improv and it being a lot of fun," Smoot said. 
When it comes to the different characters being portrayed in the show, most of the cast and crew can agree that Wein is their favorite character.
 "He's such a happy person and he likes to come in with this crazy idea of what life is going to be like, and I think it's a really good message for the real world," Boswell said.
When it comes to dress rehearsals, sophomore and cast member Henry Weston really enjoys it being it's his first time ever acting with the Vandegrift theater company.
"My favorite part about the dress rehearsal is getting to just be with all my friends and acting with all these awesome people," Weston said. "I've just made so many new friends and I also love acting."                                                                                                                                              
Senior Brayson Heath says that when he thinks of the dress rehearsal, he thinks of it getting closer to the show and opening night.
"It's telling us we are getting closer to the show and we need to be more prepared when it comes to it," Heath said.
The play takes place in a school with characters the same age as much of the audience. Boswell says that when she acts, she aims to relate to the audience, even when playing fantastical characters.                                                                                                              
 "I'm playing a ghost teacher and Sorcpie, who is Malfoy's son," Boswell said. "Every one of my characters is a little bit of a jerk, but I like to think they are all a little bit misunderstood.I think every high school kid can relate to being misunderstood at some point."
Besides usually preparing and getting ready for the show, there are so many traditions that typically happen during dress rehearsals. Dickerson talks about many of the different traditions that happen with techs, one of them being something called 'Swag Cave' as well as what typically happens with tech.
"The main thing about Swag Cave is that we don't talk about Swag Cave, so can't share that," Dickerson said. "A lot of Tech is new for a lot of different shows, and I love getting to know the underclassman. This is a cast with a lot of underclassmen, which is a lot of fun."
For theater kids who are Potterheads, this show was a major draw. Weston is a combination between a Griffindor and a Ravenclaw, and his favorite book in the series is the third book.
" I love when they introduce Lupin because he's such an awesome character and I love whenever they do quidditch, I love it when they do that," Weston said.
Even though the cast and crew are really looking forward to doing a show based on Harry Potter, senior Cameron Smoot hopes that the audience will understand the show and the comedy, which she finds being the most stressful part.
"It would take them some time to get what the show is about," Smoot said. "So making sure that the audience actually enjoys the show and the comedy is what I say is going to be stressful."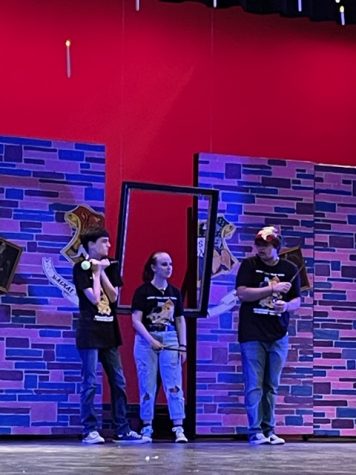 When it comes to shows and theater,  Heath wants to do every show he possibly can before graduating in May, which is what led him to do Puffs.
"I've done crew multiple times with other shows so I wanted to do the same thing," Heath said. "The most stressful part, though, is the Battle scene, because we have multiple cues going on back to back in a short time span."
The cast and crew are more than ready to showcase their hard work to the school, especially after a year of COVID restrictions.
"I think [the audience]  are going to like how funny it is," Dickerson said. "We haven't been here in so long, so it's really nice to have a fun show. It's  kinda like a new life in this theater.