I get to do life with you
Married couple works at Four Points Middle School together
He got down on one knee as his fingers nervously signed out in American Sign Language a question. He hoped using sign language would make it more sweet because they had learned the language together. He held his breath as he asked her if she would marry him. Relief and excitement flooded over him when she said yes.
Four Points Middle School theatre teacher, assistant dance director, and Yearbook advisor, Maria Talbot and Special Education Behavior teacher, Brian Talbot, were highschool sweethearts during their early years together, and have now been married for four years. Currently, they have a 3 year old daughter named Mary, almost a year old son named Mikey, and a dog named Francis.
"Every day is a new day," Brian said. "No matter what happens, you always go on to the next day, and see what happens. Every day is an adventure, a really fun adventure."
Maria and Brian met in 2009 during Viper camp just before their freshmen year. Their first encounter may have been nothing more than ordinary, but over the years, they grew to become close friends.
"Our lockers were next to each other and I was homeschooled up until high school so I had no clue how to use a locker," Brian said. "And there's Maria right next to me. She kind of looked at me with a lot of pity and helped me open the locker."
Brian said that they both began to fall in love with each other during sophomore year after they started dating. During that time, they got to know each other more and spend time with each other. 
"That first semester of our sophomore year, I got to spend a lot of time with her and get to know Maria a lot as a person," Brian said. "And then when we got back together in college, I'd say everything just clicked."
Maria said she admires many characteristics about her husband. She said that she has grown to love his quirky personality.
"He's patient, he's hard working, he's a really good dad, and he's really good with the kids here at school," Maria said. "And he's always willing to lend a hand to anybody that needs help."
Brian said he also appreciates Maria for her hard work and kind nature. He loves Maria's passion and the amount of effort she puts into everything, and he adores her love for others.
"I'd say my favorite things about Maria is that she's just extremely passionate about everything she does," Brian said. "She puts her best in everything, and she loves on everyone."
Although Maria and Brian's story is one of a kind with many, many laughs and unforgettable highlights, their lives together have had many trying times as well. From about a four year break up, the overall changes they've been through in their many years together, and even the loss of a child, Maria and Brian have experienced much growth together.
"We've definitely had some things that have tested us," Maria said. "In October of 2018, our son, Jet, was stillborn so that was really, really hard. And then our youngest son was born last February, and he has a congenital heart defect, so he had to go into open heart surgery that week after he was born. He's about to have another open heart surgery and he's not even a year yet. The most challenging thing I would say is just navigating through that grief and hard times together but also on our own."
However, both Maria and Brian have been able to nurture their relationship together and have learned many valuable lessons about having a significant other and putting others first.
"I think it's important to know when you're wrong and take ownership of the things you do," Brian said. "A lot of our relationship is growing together, and if you're not willing to grow and make mistakes, it doesn't really go well from there. When you're wrong, admit it and grow from there, and grow together as a couple."
Maria and Brian said that they get to see each other in both their ups and downs. They have grown a lot together and would've never chosen another person to go through life with.
"It's just fun to know that the person you're married to is like your actual best friend and your soulmate," Maria said. "And you're just like, yeah, I get to do life with you."
About the Writer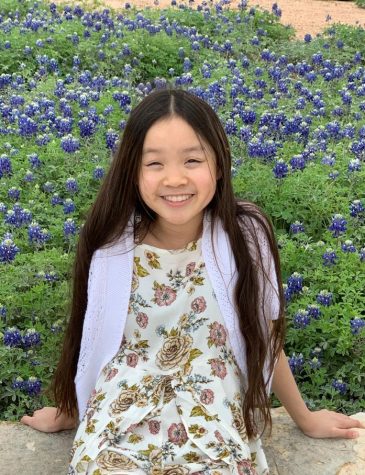 Dayna Ung, Staff Reporter
Dayna Ung is a sophomore, and this is her first year on the newspaper team. Outside of school, she is part of a theatre organization called CYT (Christian Youth Theatre), and she loves to bake, play piano, and read.