From sparks to a flame
Two Vandegrift alumnis celebrate just over a year of marriage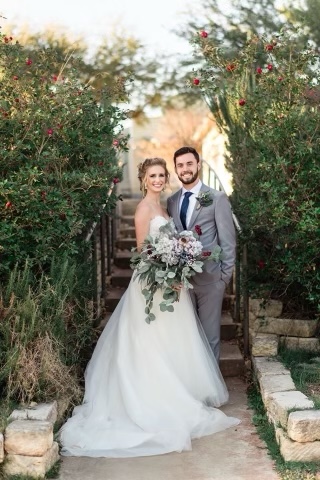 The upbeat melody blasted in her ears as she boogied to the music with her husband. They danced around goofily while her husband proceeded to continue cooking their dinner. With herself near collapsing in heaps of laughter, and her husband stirring the pot with the ladle, they both oddly bopped to the beat of the music.
Vandegrift alumnis, Elise and Alex Lutz have been married since January 2020. The couple were neighbors as little kids and grew up just around the corner from each other. When they began dating, they had to cope with being further apart from each other as Alex went to Texas A&M University, and Elise went to UT Austin. But as they grew in age, their relationship with one another continued to blossom.
"I love the compassion that Elise has for pretty much everyone, almost to a fault where it can become overwhelming for her, which in a way is great to see because you know she cares so much about everybody," Alex said. "Especially with her being a teacher, she loves everybody and wants to have a positive impact on people."
Just as much as Alex admires Elise, Elise has so many things to say about Alex. But one thing that stands out to her is the way Alex connects with everyone he meets.
"I admire his ability to put a smile on everyone's face," Elise said. "I see the way he connects with other people and how he connects on an emotional level with people. He's able to read people's emotions and support them in ways that I can't."
At first, Elise was just the little sister to Alex's best friend. When they grew up, however, Alex began to see Elise as a friend he could hang out with.
"My very first thought about Elise was she's Carson's little sister," Alex said. "I was really good friends with her brother for most of high school and she would always be there. And when I started to actually become friends with Elise, my friends and I both said Elise was a 'bro'. She would do whatever we wanted like sports or games."
As Elise grew up with Alex, she noticed his personality to be very charismatic and playful. She also appreciated his effort in making connections with people.
"I noticed he would always be making jokes but also, he was one of those people that just paid really close attention to you," Elise said. "He didn't dismiss anything I said, and he was just always intentional with conversations."
The summer after freshman year in college for Alex, and the summer after senior year in high school for Elise, was when the pair began to grow feelings for each other. During this summer, they coached kids soccer together and started to get to know each other more.
"It was a cool way of getting to not just know each other better, but also to see how we interact with other people, especially young kids," Alex said. "It was a good way to see what Elise was like under pressure in different circumstances."
At the beginning of their relationship, Elise and Alex had to overcome challenges in communication. Elise said that Alex's bluntness in certain situations was something she had to get used to, while Alex said it was Elise's indecisiveness.
"When we started dating, he just wanted me to make a decision," Elise said. "And it got to the point where we were frustrated with each other over the same thing but for different reasons. Alex's bluntness was one of those things that was really hard for me when we first started dating. I grew up where we kind of tiptoed around sensitive topics, whereas he would just get straight to the point."
However, over time, their relationship  matured as they worked together to improve on their challenges. On their wedding day, Alex recalled learning a lesson about trusting his wife in a lighthearted way.
"We were lighting the Unity candle during our wedding," Alex said. "I was supposed to light it, but the weather was not in my favor. We had just talked about serving and trusting each other, and instead of giving Elise the lighter to take a stab at it I gave it to Josh Howard, who officiated our wedding. Eventually, Elise just said to give it to her, and she took it and lit the candle on the first try."
Since being neighbors just around the corner from a young age, to going to a college two hours apart from each other, Alex and Elise have been able to gather valuable lessons about being in a relationship. They have learned the importance of intentional communication with each other, the significance of being selfless in small ways, and much more.
"I think a lot of people recognize that being in a relationship means that there has to be almost a step back in terms of selfishness, but what a lot of people don't recognize is what those steps are," Alex said. "That's changed for us from dating, engagement, and marriage. It could even be as simple as emptying the dishwasher or picking up groceries."
Both Alex and Elise have learned a lot in their short year of being married. Even through the ups and downs of their relationship, they said they always have a common priority which bonds them.
"I think for us we know that our relationship is rooted in the love that Jesus has for us," Alex said. "And because of that love we're able to express that love to each other, and if we know that that's where it comes from, then we feel like we can get through anything."
About the Writer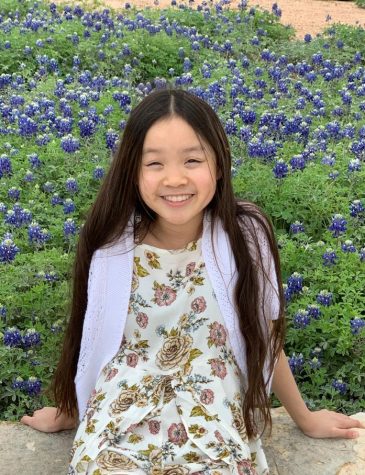 Dayna Ung, Staff Reporter
Dayna Ung is a sophomore, and this is her first year on the newspaper team. Outside of school, she is part of a theatre organization called CYT (Christian Youth Theatre), and she loves to bake, play piano, and read.