Tommy's T-Drive
Senior football manager scores first touchdown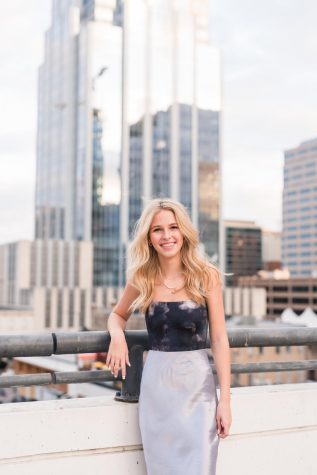 More stories from Eilla Reid
After four years of intense dedication and support from the sidelines, senior varsity manager Tommy Hartman played with the varsity team for the first time Nov.13 against Hutto. Running a 49-yard touchdown, the first play of the game filled the stadium with cheers on a very special senior night.   
Tommy ran the touchdown with the help of seniors Ryan Back and Matthew Lee. Matthew Lee, #72, snapped the ball to Ryan Back, #12, who handed it off to Hartman, #45, who ran it 49 yards into the endzone. Not only scoring the first Viper touchdown of the night, but also of his varsity career. 
"It was a great honor to be part of Tommy's 'T-Drive' touchdown. It will be a memory I never forget," Back said. "Tommy is a huge part of the Vandegrift football program. He is the key inspiration of the team and has been instrumental in the team's success." 
Hartman has been a crucial part of the football team his entire high school career. As a manager he regularly encourages the boys with speeches before, during or after games, works hard with them to better their team and celebrates the hardest when they win. 
"Tommy does so much for us and we are all thankful and happy to see that he is around, he's a big part of our team. Seeing him run into the endzone was really a priceless moment. He really deserved it because of how hard he works," senior Luke Draeken said. "He's always the first to practice and the last to leave, he's also always doing a lot of stuff to help the coaches and players when it's needed." 
He also received a game day encouragement video from the NFL's Detroit Lions including some of Hartman's favorite players, Jamal Agnew, Quandre Diggs and Darius Slay. Tommy is a die hard Lions fan and was ecstatic to hear encouragement from his idols. 
"I'm a big fan of yours, I just wanted to wish you good luck this friday," Agnew said in the video. "Take that ball and go score in that endzone. Go Lions, I'm rooting for you!"
Before the game, Tommy trained with the team to perfect the 'T-Drive' play. 
"I prepared by lifting weights with the team for like four weeks and I got really strong and improved my strength and my running. I joined in practice the week before we got to play Hutto. Then I got to join in every Wednesday to practice for the T-drive," Hartman said. "A T-drive is a play where I get the ball and then I run into the end zone, my boys provided a good hole for me and I ran it in myself."
"We practiced it for a couple of weeks and had Tommy suit up in practice for that week. It was a very emotional movement for him and his family as well as the team and coaches," Lee said. "It was awesome to see him do that. For most of my football seasons he's been right with me and with the team encouraging on the sideline, but that night he was able to join us." 
Everyone was ecstatic for the "T-Drive" play, the student section brought signs displaying 'Touchdown Tommy'. After the play, Hartman and other varsity players did a victory dance in the endzone then continued their celebration on the sidelines. 
"It felt great," Hartman said. "Everyone was expecting me to play at senior night because they wanted to honor me with love and before I graduate."
Leave a Comment
About the Writer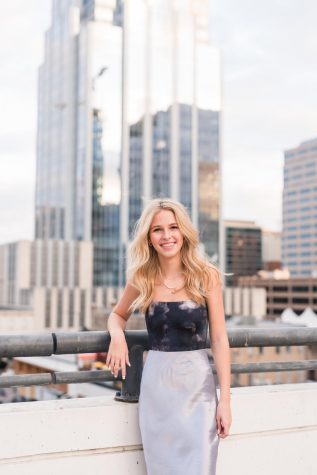 Eilla Reid, Technical Editor
Eilla Reid is a senior, and this is her second year on the newspaper staff. She is also involved with PALS, UIL Academics, and Yearbook at Vandegrift....